Since his early days in the NBA, Shaquille O'Neal has been a superstar. He's a gifted entertainer with the ability to rap, act, ball hard, and, uh … "Shaq't a fool."  He's also, by many accounts, a good dude with a lovable personality. Is it any wonder that the internet loves him?
Shaq was a meme before "memes" were a thing, thanks to a series of so-bad-they're-great business decisions and pop culture appearances. He played a buff genie in Kazaam, graciously let Aaron Carter beat him for a music video, and transitioned from basketball to commentary while keeping a great sense of humor about himself.  He built the blueprint for today's chill, relatable celebrities.
And here's what that blueprint looked like, a brief timeline of every meme-worthy Shaq moment.
Hack-a-Shaq
It was impossible to physically dominate the 7-foot, 340-pound Shaq on the court, but he had one crucial weakness: his poor free-throw percentage. In his career, Shaq only had one season of shooting better than 60 percent from the line. And he went to the line a lot after teams picked up on Dallas coach Don Nelson's strategy of fouling Shaq at crucial moments, whether he had the ball or not.
It's been used on other players since, but never so effectively. And it's always been known as "Hack-a-Shaq."
O'Neal hated the strategy at the time and called Nelson a "clown" for using it, but it worked—as much as Shaq denies its efficacy to this day. In fact, it worked so well that Shaq had to go through special coaching to get his free throw percentage up. He did, but not enough to make Hack-a-Shaq a bad idea.
The tactic has survived since Shaq's retirement and become so prevalent that the NBA has instituted a new rule to deal with it in the 2016-2017 season. Commissioner Adam Silver claimed the strategic fouls were adding as much as 15 minutes to a typical game, something fans (and TV networks) hate.
Shaq may not have invented it, or even liked it, but it's a huge part of his basketball legacy.
Shaq Shimmy/Shaq vs. Cat
The most iconic Shaq meme is probably this 2014 GIF of the "Shaq Shimmy," taken from a Gold Bond commercial and famously juxtaposed with a cat getting ready to pounce: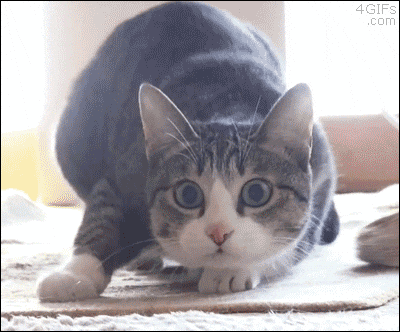 The same Gold Bond commercial was also remixed mercilessly on YouTube, in a surreal meme called "liqui-Shaq." Fair warning: This is the YouTube equivalent of an acid trip.
Kazaam/Shazaam
https://www.youtube.com/watch?v=aNvjhpnQxRA&feature=youtu.be
Shaq's beloved, critically underrated turn as a genie in the 1996 comedy Kazaam isn't entirely a meme, but it's another instance of Shaq brand-building and '90s nostalgia.
Where it gets meme-y, though, is in the 2016 phenomenon where hundreds of people claimed they remembered a similar movie called Shazaam, starring the comedian Sinbad. No such movie exists, and it was eventually debunked as a case of the "Mandela effect," a kind of mass delusion.
However, the Shazaam meme rekindled interest in the Genie movie that does exist, the one starring Shaq. Maybe there'll finally be a sequel?
Shaq-Fu: The video game
Shaq-Fu, released in 1994, was a 2D fighting game where players controlled Shaq as he accidentally gained martial arts powers and battled through the mystical "Second World" to rescue a missing kid. It was a very poor game on all levels and became the butt of a lot of jokes. The Angry Video Game Nerd's review, embedded above, pretty much sums it up: The story is bad, the controls are "mutilated" and "unresponsive," and the character sprites were way too small.
It was a project apparently slapped together to combine two cultural powerhouses of the day: Shaquille O'Neal and Street Fighter II. It didn't live up to either of them.
It's made numerous worst games of all-time lists, and there's an entire website devoted to finding and destroying the remaining cartridges. So, not a total success overall.
Recently, a group of game developers, working with Shaq, crowdfunded an effort to make a new and improved Shaq-Fu that would deliver on the promise of the original. It's currently under development, and an alpha version is apparently done.
"That's How I Beat Shaq"
Fallen teen idol Aaron Carter wasn't always an adult Trump supporter and angry Twitter egg. Once, he was a sweet and cherubic pop star who rode his big brother Nick's fame into a crazy music video with Shaquille O'Neal.
It was a weird footnote of a song, destined to be dated as soon as it was released in 2001—but not because of Shaq, who's a household name to this day.
Carter got a rematch in 2013, with Shaq joking that his infamous "loss" to the pop star "still hurts." But the tables had turned in the intervening 12 years. Carter had awoken from his teenage dream and discovered that scoring even one point against the real Shaq was impossible for him.
It's especially funny because, despite Aaron Carter's Billboard Top 100 with "How I Beat Shaq," O'Neal's music career is arguably more interesting and influential than Carter's own. (People still joke about that music video, though.)
Shaq's rap career and the Fu-Schnickens
And speaking of Shaq's music career: It was incredible. Many, many NBA players have tried to make it in the rap game, but Shaq is the only one with a platinum album. He released four LPs between 1993 and 1998, scoring a hit single with "(I Know I Got) Skillz."
And Shaq wrote his own stuff, with a little coaching from the Fu-Schnickens.
Nobody expected the big center to be as nice on the mic as he was, but that ended up working to his advantage.
"I probably was a lucky platinum artist," he told Complex, more than 20 years later.
"There were probably some Shaq fans that bought it," he said. "Then there were the Shaq-haters that bought it because they wanted to boo me and say that I can't rap. You add all of that together and it becomes a million copies."
He's been more focused on the NBA in recent years, but the big homie can still freestyle when he feels like it. Here he is with Nicki Minaj on Inside the NBA (skip to 5:48):
Shaq falls
This is the most recent genuine meme to feature Shaq, although it was a little bit forced. When he got pranked on Inside the NBA in 2015, tripping over a monitor cable that had been tied around his legs, fans Photoshopped the hell out of the moment. Shaq even offered a $500 prize for the best entry.
This guy is winning so far keepem comin pic.twitter.com/wZQM8DdMdg

— SHAQ (@SHAQ) May 7, 2015
In 2016, a Twitter user named Domenick Nati got a chance to take a photo with Shaq at a meet-and-greet. But while the two were posing for the camera, the fan slyly started taking video from below on his phone. He thought Shaq hadn't noticed… until he actually watched the video.
https://twitter.com/KingOfContacts/status/745438319287296005
Shaq, obviously aware of what's going on, threw in an exaggerated grimace to go along with the photo. "Shaquille O'Neal is our finest physical comedian," wrote a Sports Illustrated blogger after the incident.
It's true. Shaq's basketball gifts, sense of humor, and incredible physical size combine to make him not only a great entertainer, but an endless fountain of good memes.
Everything I mentioned above is only a tiny slice of the Shaq meme-o-sphere, which is dominated by dumb puns, weird video edits, and random GIFs of Shaq pulling faces. He's truly unstoppable. Unless he has to make a free throw.