Service dogs can radically improve the lives of the people they assist. Of course, in order to do so, they have to be properly trained first. It isn't easy and not every dog can make the cut. One dog in particular, a German Shepard named Ryker, failed so spectacularly that he's become an internet sensation.
Ryker was being trained at the Double H Canine Academy in Louisville, Kentucky. He flunked every test in the book, but he had such a good time doing it that you just can't hold it against him. Luckily, his trainers captured the whole thing on video to share with the world. They even added Frank Sinatra singing "My Way" in the background, because that's obviously the way this puppy likes to operate.
Check out the video below to watch the would-be service dog pull people out of wheelchairs, steal their walkers, and spill water all over the place.
The video was originally posted to YouTube on Dec. 11, 2018 but went viral this week when user @KimmyMonte shared it on Twitter.
Since being posted yesterday, the video has already racked up an impressive 6.4 million views. Even though Ryker may have lost when it comes to his test, he's clearly won people's hearts.
Some people even suggested alternative lines of work for the energetic canine.
But it turns out that we don't need to worry about Ryker's future employment. The Daily Dot spoke via email with Lee Ann Hardin, who co-owns the Double H Canine Training Academy with her husband, Rich. She assured us that Ryker has some very marketable skills.

"Ryker is trained in Protection and Detection," said Hardin. "At the time this video was put together, we were training a service dog and thought that it would be funny to put high drive Ryker through the test."
Fans will also be happy to hear that there are several more videos of Ryker available on the Academy's official Facebook page.
He even appears to be running for president.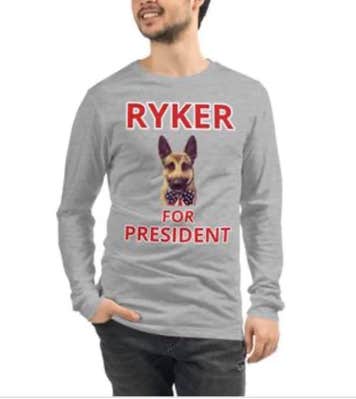 He might never make it as an official service dog, but Ryker did bring a smile to thousands, and possibly millions, of faces, and that's worth something to be sure.
"With all of the negativity in the media and on social media, a good belly laugh is good for the soul," said Hardin.
And that's one service Ryker can definitely provide.