Let's face it: $225,000 can go a long way on Craigslist. You can buy the company of multiple escorts, several thousand pieces of broken IKEA furniture in "good" condition—or even a whole town.
The entire ghost town of Seneca in northern California is up for sale, and its owner has turned to Craigslist in an effort to unload the property.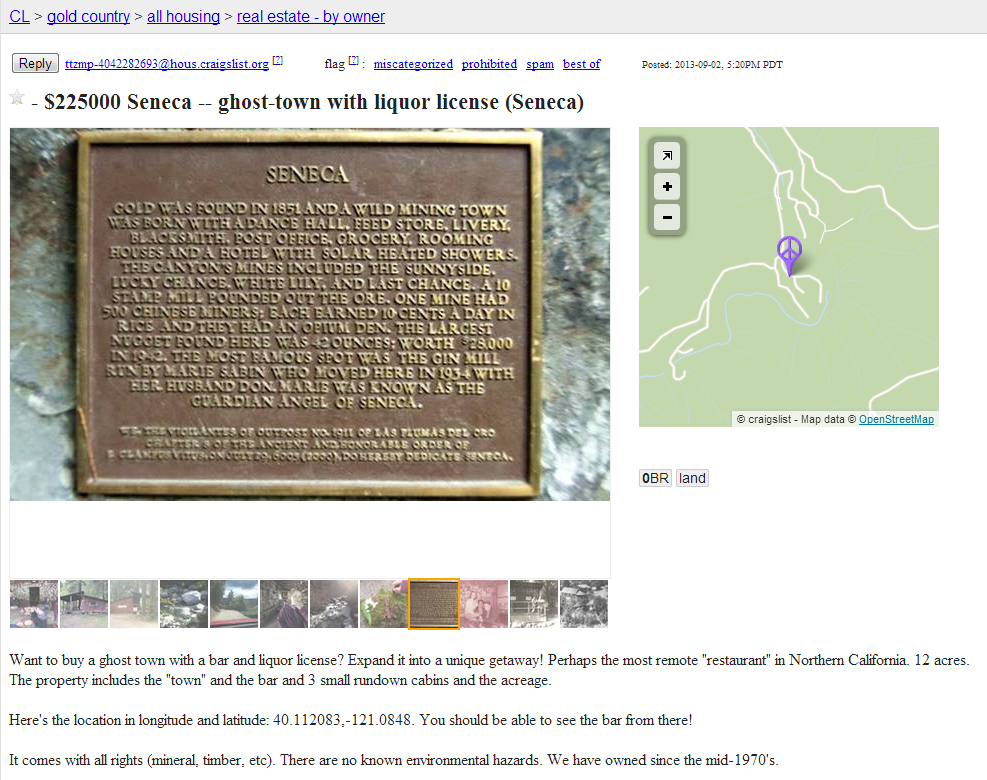 Screengrab via Craigslist
"Want to buy a ghost town with a bar and liquor license?" the owner wrote in the unintentionally hilarious posting. "It comes with all rights (mineral, timber, etc). There are no known environmental hazards. We have owned since the mid-1970's."
Several run-down cabins and even an island are part of the deal. The liquor license add-on is especially highlighted, since licenses in Plumas County are rare. Physical attributes aside, the community is also rife with historical significance: It was home of the "Woodstock of the West" festival in the 1970s ("we have a clipping somewhere," notes the owner) and is "very close to, or containing a historic Chinese-built gold mine."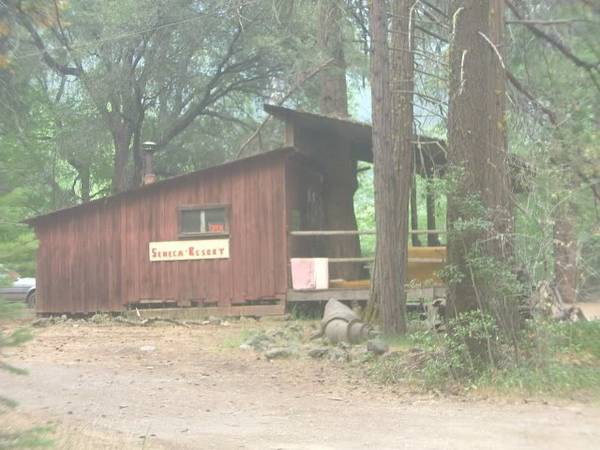 Photo via Craigslist
Granted, Seneca is not without its setbacks.
"The area isn't suitable for anyone in shaky health."
"The town is extremely remote and access is weather dependent."
"There are no utilities and there is no business activity here at present."
"The gorgeous little Feather River provides water via a pipe."
"If you visit the area at this time of year be sure to travel with winter weather equipment. It is on a dirt road that is often unplowed. A local resident has occasionally done some plowing. There are extreme drop-offs and it is one of the most extreme roads in the region. Be very careful!"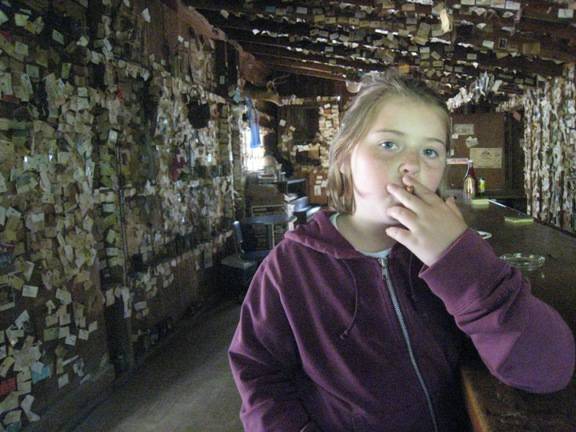 Photo via Craigslist
We're not sure if the child smoking a cigarette is part of the sale.
It's not the first time a town has been put up for sale online—cities have been on and off eBay for a decade now—but on Craigslist, Seneca could be a pioneer. At this rate, it's only a matter of time before Detroit goes on the market.
Photo via Damian Gadal/Flickr