Earlier this month, an alleged feud between Selena Gomez and Hailey Bieber dominated multiple news cycles. The feud was drummed up by fan accounts, and today Gomez posted to Instagram, claiming that Bieber is now getting death threats as a result.
Gomez posted a note to her Instagram Stories on Friday morning and claimed that Bieber "reached out to [her] and let [her] know that she has been receiving death threats and such hateful negativity."
"This isn't what I stand for," the actress wrote. "No one should have to experience hate or bullying."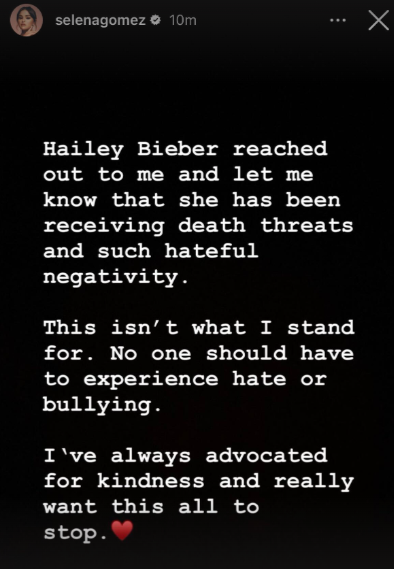 In late February, fan accounts tried to stir up drama after Gomez posted to Instagram Stories that she'd accidentally laminated her eyebrows, and a screenshot of Bieber and Kylie Jenner apparently on a FaceTime was held up as proof that they were making fun of Gomez, which both Jenner and Gomez agreed was "silly."
A photo of Gomez and Bieber together last year at the Academy Museum Gala was supposed to put years of fan-created drama between the two to rest. Gomez previously had to address other drama related to Bieber and ask fans to be kind. Bieber cleared up any misconceptions about the Selena-Hailey-Justin Bieber timeline last fall on the Call Me Daddy podcast. Selena fan accounts are now calling out Justin Bieber for not publicly defending his wife from harassment.


We crawl the web so you don't have to.
Sign up for the Daily Dot newsletter to get the best and worst of the internet in your inbox every day.