Just imagine, for a moment, that the legendary television show Seinfeld never ever, ever went off the air—that it streamed around your television screen for years and years and years and years, way after the 1998 finale, after Jerry Seinfeld made the movie about bees, after all the comedians taking cars to get coffee, after Jason Alexander decided to get a toupee to cover up his eternal bald spot.
What would Seinfeld look like? How would it soothe you? And what sort of crazy trips would the gang take as a team?
These answers started to come to the surface some time around the holidays last winter, when two guys in New York created @SeinfeldToday to repurpose Jerry and the crew into the modern world. A string of parodies followed, each one more outrageous than the other, until @Seinfeld2000 came around and ended the game in full.

Since first coming onto the scene in the spring of 2013, @Seinfeld2000 has completely changed the way we think about Jerry, George, Kramer, and Elaine. They're crackheads, deviants, malcontents; fools, adulterers, and schizophrenics. They set themselves on fire and steal birth control from women. They're racists, misogynists, collective scums of New York. But you love them. You need them. And now they're going on a trip.
Just last night, the anonymous creator of @Seinfeld2000 came forth with SeinQuest2000, a 12-minute Web experience detailing a long, strange trip through the Seinfeld-inflected cosmos, one complete with dubstep beats, hyperloop stations, Inca prophecy, and flasks filled by Charlie Sheen. Beginning with a question ("What if Seinfeld is still, like, on TV today?") and ending with a revelation (J. Peterman might a character in Avatar, so you better drink some Peach Schnapps), the journey takes viewers through the most deranged of post-Seinfeld scenarios, and somehow simultaneously leaves you both relieved and on sharp edge, like you're George in that episode where they go to India and everything's shown backwards and Kramer's eating a big lollipop.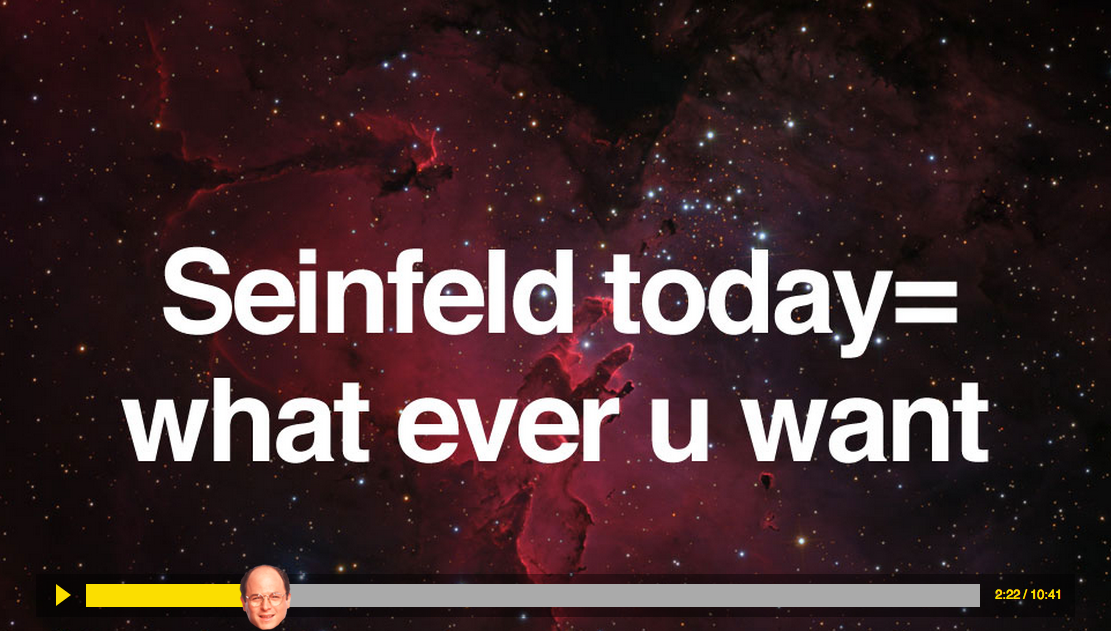 The video's crazy and comes with more than a few weird product placements for sandwiches and soft drinks that may or may not exist.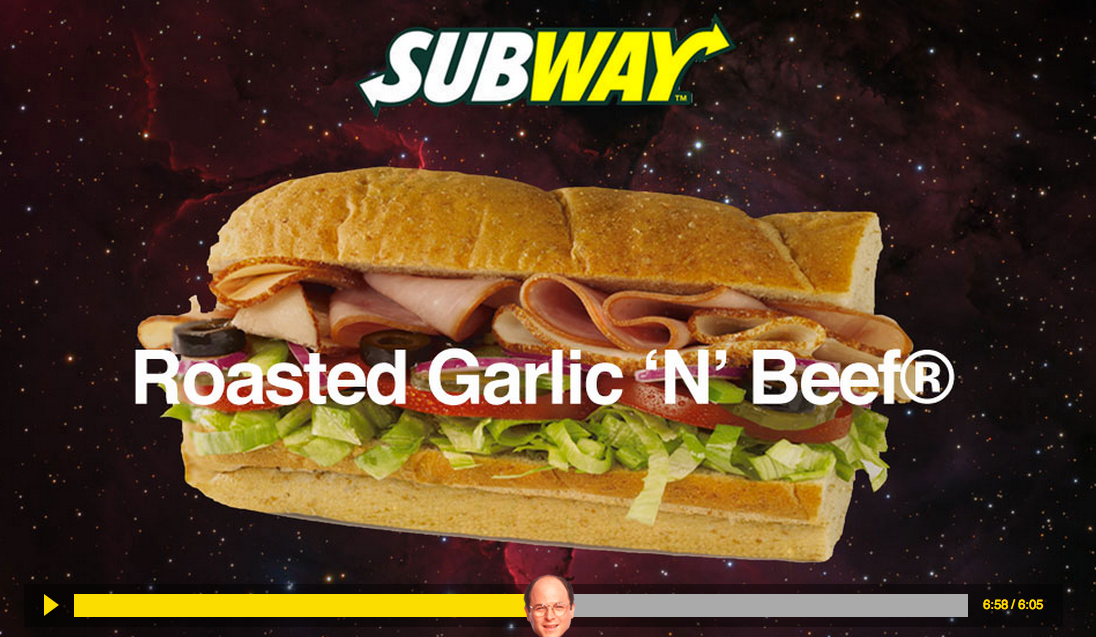 At one point we get a vision of Cam'ron's Purple Haze. At another, we get a shot of Skrillex's profile. It's bonkers. It's fantastic. You should really watch the thing right now.