Reddit has launched a new service that gives users a place to sell their goods.
The project is called Redditmade, and like Teespring, users can design and sell their own product after enough people have pledged to buy it.
"You can create anything you want on redditmade, whether it's a hat, sticker, glass, or something super specially customized and unique," stated the site. "You decide how many you want to sell and how much to sell them for, and you'll have 30 days to reach your goal. If enough people pledge to buy your product by then, we'll start making it!"
One of the featured products for sale is a Call of Duty–inspired T-shirt that, as of Thursday morning, was 62 percent funded.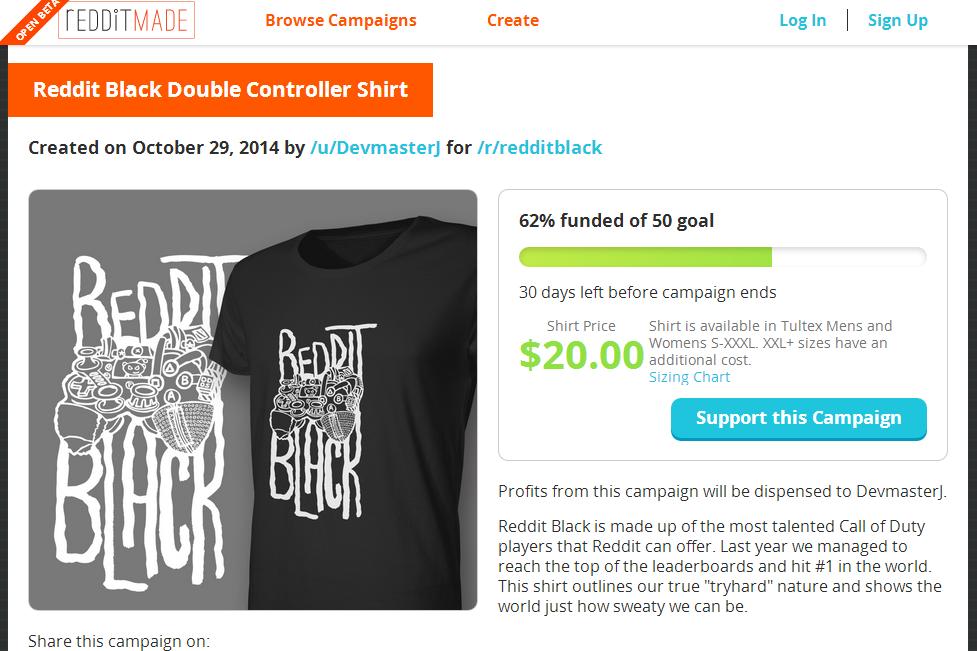 Some of some other items on sale include a pin, pack of Reddit Secret Santa stickers, and a book of cocktail recipes. After each of these products reaches its pledge threshold, Redditmade states that the seller will "receive all the proceeds from your campaign, or you can donate them to any other person or cause you want."
Redditmade is Reddit's second major side project this year. Two weeks ago, the San Francisco–based company paid an undisclosed amount of money to obtain Alien Blue, the popular third-party Reddit iPhone app.
The news of Redditmade has been well received on the site. One redditor praised the "easy way to buy the weird stuff that other redditors make without actually talking to them."
Photo via AnnieAnniePancake/Flickr(CC BY 2.0) | Remix by Jason Reed