Redditor ppaul9 quite literally wrote the book on the best way to propose.
In a post Monday on the r/pics subreddit, ppaul9 described the unique way in which he proposed to his girlfriend.
"To propose to my girlfriend, I wrote this book about our relationship, had it illustrated, and printed. I had her stumble across it at the library and read it to me. When she got to the right page I got on my knee and asked if she would marry me. She never saw it coming. What do you think?" he wrote.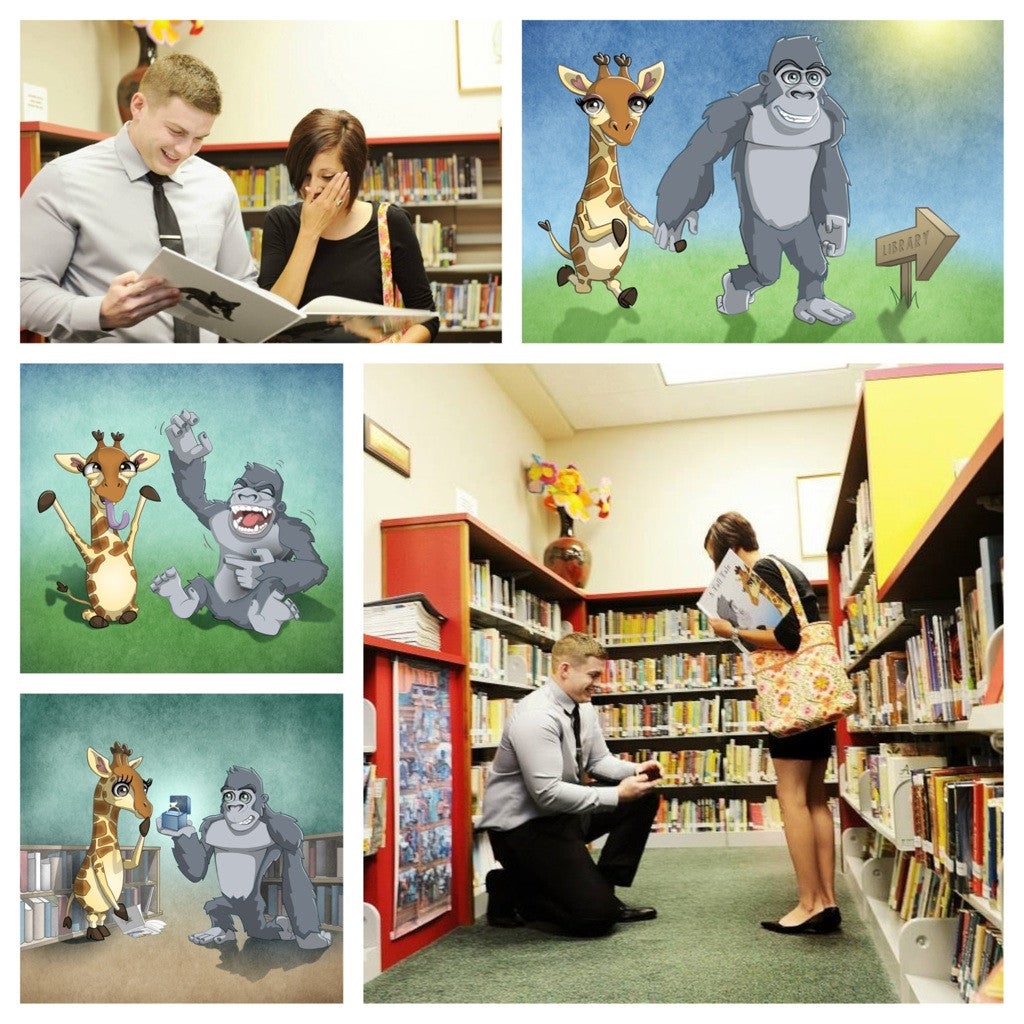 Photo via ppaul9/Imgur
He went on to explain how perfectly choreographed the proposal was, adding an album of the book's contents as well as a full transcript. Illustrator Yonni Limor was responsible for the images, which depicted ppaul9 as a gorilla and his fiancée as a giraffe.
"The photographer put [the book] in place a few minutes before we arrived. Then she waited in the shadows pretending to read books. We had the entire thing planned out," he said. "[It was] 1k for the illustrations and to get 10 copies printed. Well worth it, if you ask me. It is a memory we will never forget."
Many redditors were impressed with ppaul9's ingenuity with the proposal.
"Aw dude, you're so sweet. First wedding proposal I've seen on Reddit that has made me cry. I also like how much you both resemble your respective animals," redditor Supertramping said.
"Happy for you man :) you do realize your raising the expectation bar that much more for your fellow man right? Next thing you know we are gonna have to spell out 'will you marry me?' with major 4th of July fireworks. Its not cheap man haha," redditor TheArizona said.
"That's how I plan to divorce my future wife, basically the same set up but with the animals getting sad, and the gorilla getting drunk. Then the gorilla serves the giraffe papers, and at that moment ill pull the real papers out of my brief case," redditor jjjppp123 said. He was, of course, kidding. Possibly.
ppaul9's geeky proposal isn't anything new on Reddit. Earlier this month, one redditor proposed to his girlfriend on the site itself using memes. In June 2013, another arranged a proposal in New York City's Central Park with the help of the r/nyc subreddit.
Photo via ppaul9/Imgur