There's a massive wall protecting the Faraja Children's Home in Kenya from dangerous intruders—all because of Reddit. Users of the social news site banded together earlier this year to raise more than $100,000 after a redditor posted a graphic photo of a man who was slashed in the face by an attacker's machete while defending the complex.
That barbed barrier serves as a powerful symbol of the orphanage's newfound safety. But it's also indicative of Reddit's growing power as a platform for crowdsourced charity.
It's a trait that mirrors cofounder Alexis Ohanian's personal philosophy of using the Internet for positive change—but according to Ohanian, it's something that grew out of the site's community and inspired him to find other ways to do good.
"I've always tried to 'make the world suck less,'" Ohanian told the Daily Dot, "but neither [Reddit cofounder Steve Huffman] nor I started Reddit explicitly to do good in the world."
Instead, Reddit's power as a charitable platform, like so much else on the site, grew as an organic movement among its users. Inspired, in late 2007, Ohanian launched Breadpig, a geeky retailer of books and other goods which donates much of its profits to charity. Breadpig's motto? Ohanian's rallying cry: "Making the world suck less."
And for RedditGifts cofounder Dan McComas, who's now carrying out Ohanian's vision as a Reddit employee, that's only the beginning:
"What I really want to focus on right now professionally is trying to figure out [whether] we can actually leverage these big online communities like Reddit to do something good."
He's being far too humble. Reddit's already changed the world in countless ways, from helping pay for a three-year-old's blood treatment to raising more than $200,000 for Doctors Without Borders.
Can McComas, Ohanian, and the Reddit community find even more efficient ways to harness the Internet's charitable side?
The key, McComas said, is to "get people behind an issue that speaks to the community as a whole, to get that snowball rolling."
In the meantime, here's a look at Reddit's nine greatest charitable moments.
1. The Great Wall of Reddit
One night earlier this year, Anthony Omari scared off thieves who were raiding the Faraja Children's Home in Kenya. His reward? A machete wound to the face. So redditor TheLake posted a photograph of Umani, with a puckered scar from the wound clearly visible with a simple request: Would Reddit pitch in to build a wall? The orphanage needed just $2,000. Reddit gave $100,000. The children are now protected by a concrete wall with a barbed-wire tip, and the orphanage has formed a lasting relationship with Reddit.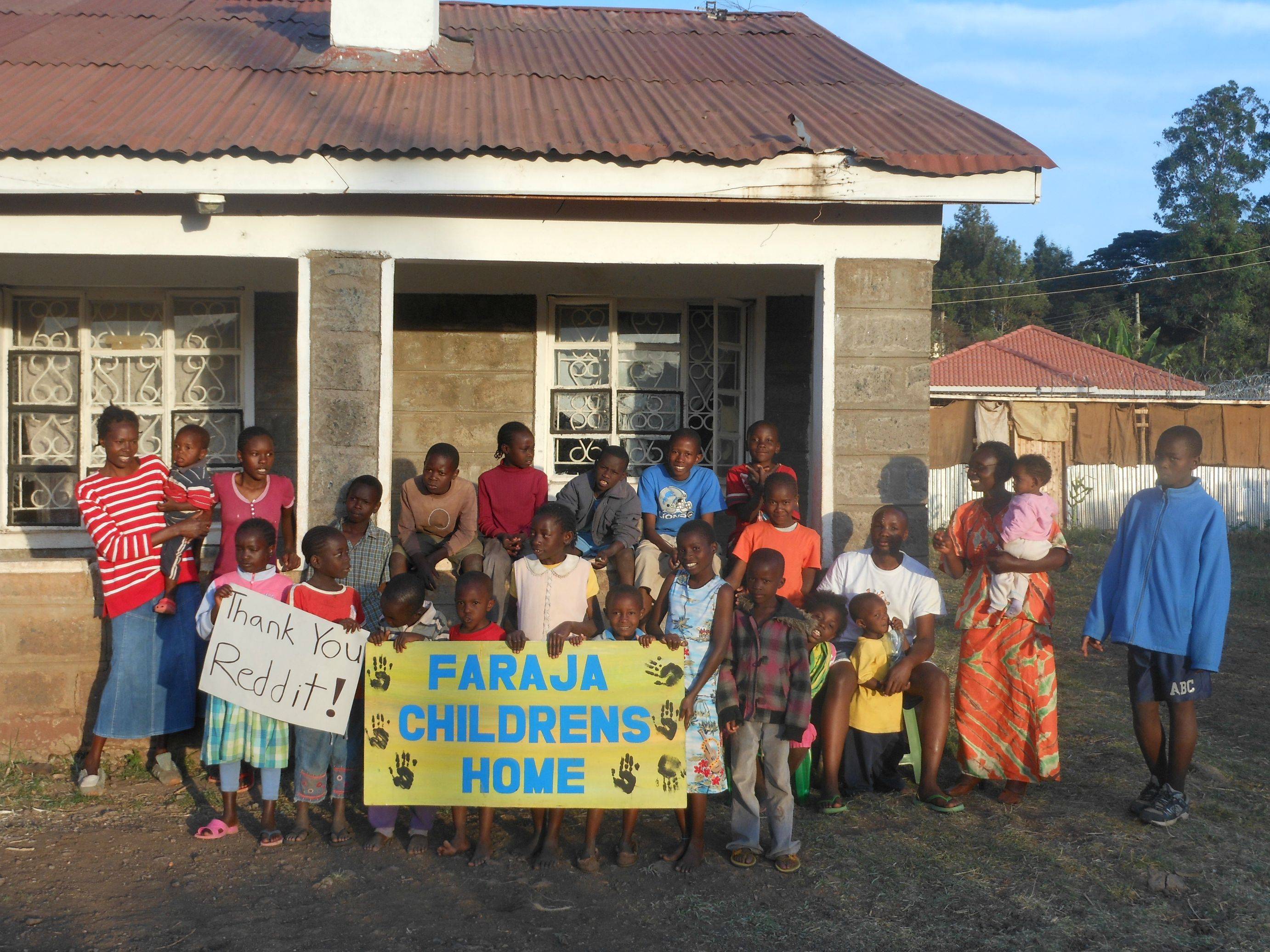 Photo by Ben Hardwick
2. The Rally to Restore Sanity
Contrary to popular belief, Jon Stewart and Stephen Colbert's October 2010 rally in Washington did not begin with a Reddit post. However, redditors played a huge role in helping Comedy Central's fake-news kings blow past their fundraising goal—to the tune of more than $600,000. It was a watershed moment for Reddit and put the site in the spotlight.
3. "Good Without God"
Redditors will say they don't have a point to prove, but when they launched a fundraiser for Doctors Without Borders last fall, they picked a pointed rallying cry: "Good Without God." Reddit's atheists raised more than $212,000 for the medical charity, proving godlessness and altruism can coexist.
4. A voice for the voiceless
Three-year-old Lucas González suffered from a rare blood disease. His family was ready to sacrifice everything they had to pay for his treatment. But Lucas' uncle had an idea: Why not ask for a little hope from Reddit's r/assistance? Reddit didn't disappoint. The community raised $50,000 in less than 24 hours.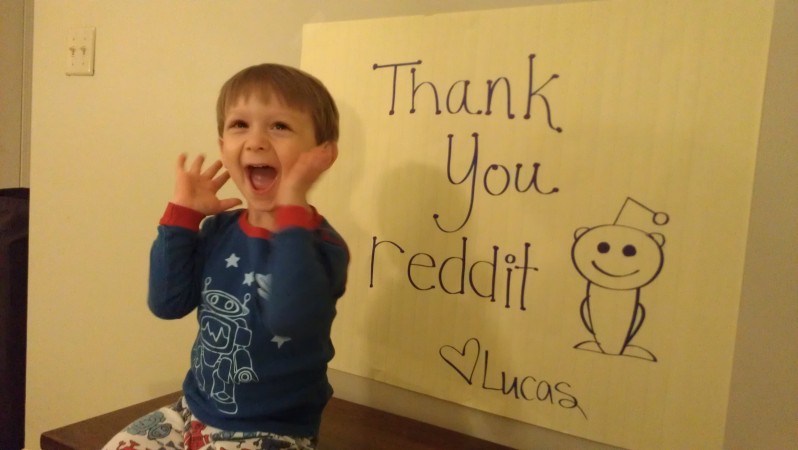 5. The gift of learning
Reddit's latest fundraising drive has already collected more than $24,000 to buy books for schoolkids. It's the first big fundraising drive since Reddit acquired RedditGifts last year and a sign of things to come—just ask ninth-grade English teacher Mrs. McGillem, who helped inspire the drive. "My students checked my DonorsChoose page recently and were ecstatic to see the progress toward the goal amount," she wrote. "They can't wait to have these titles!"
6. Secret Santa
Okay, a gift exchange isn't exactly charity. But there's so much good karma attached to Reddit's Secret Santa that we had to add it to the list. In by far the largest such event in the world, 40,000 redditors gave each other gifts last year. Why? Just for the hell of it. No event better demonstrates Reddit's quirky and altruistic nature. Just ask the woman who received a brand new laptop or the guy who got $1,500 in cash.
7. Defending the weak
Kathleen Edward was dying from Huntington's disease. That didn't stop her neighbors from harassing the 7-year-old mercilessly and mocking her on Facebook. But Reddit had her back. The site paid for a shopping spree for her at a local toy store (owned by a redditor). When she was finished, she posed for a picture, holding a handwritten sign reading, "THANK YOU, REDDIT!"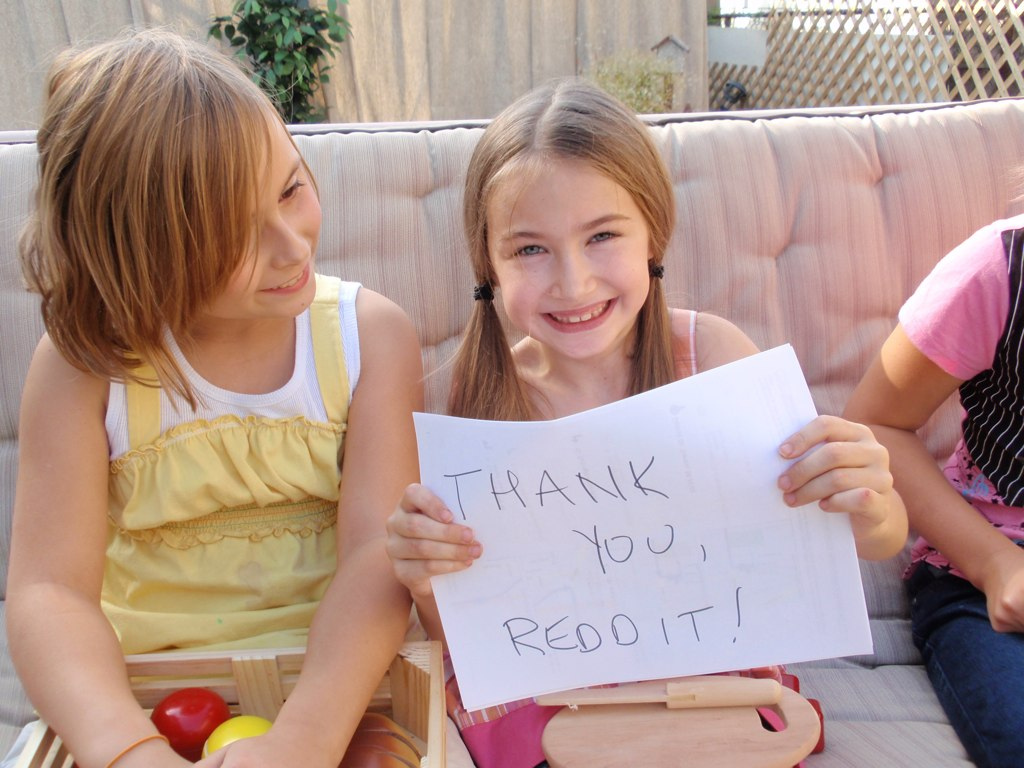 Photo by Hans Masing
8. Hope for Haiti
In 2009, Reddit held a friendly fundraising competition with its biggest competitor, Digg. The motivation for the charity was acutely serious: the earthquake in Haiti that had left thousands dead and many more injured and homeless. Redditors raised more than $180,000 for the relief efforts.
9. Random acts of pizza and awesomeness
Every day redditors are doing good things. From slinging out free pizzas to handing out cash donations. Reddit's dozens of charitable subreddits prove how the site's culture of giving persists even after front-page enthusiasm ebbs. Want to check out a few for yourself? Head over to r/assistance, r/favors, and r/Random_Acts_of_Pizza for a crash course in crowdsourced benevolence.
SXSW Panel: Harnessing the Power of the Benevolent Internet

Tuesday, March 13, 12:30 pm

Austin Convention Center, Room 6AB