Fans of social news site Reddit like to put the image of Snoo—the site's alien mascot—on just about anything. A few examples include shirts, iPhone cases, decals, journals, and even a cycling kit.
As of 4 days ago, we can add an AR-15 to that list.
The customized weapon in question was posted by user  x—x–x-x to r/gunsforsale, a year-old subreddit with 3,722 subscribers where Redditors can sell and purchase guns, ammunition, and accessories.
"[I'd] love to sell it to a fellow redditor," x—x–x-x wrote on his post. "I've got about $1,150 wrapped up in it right now with parts, shipping, mags and case and stuff, I'm just looking to get what I put into it."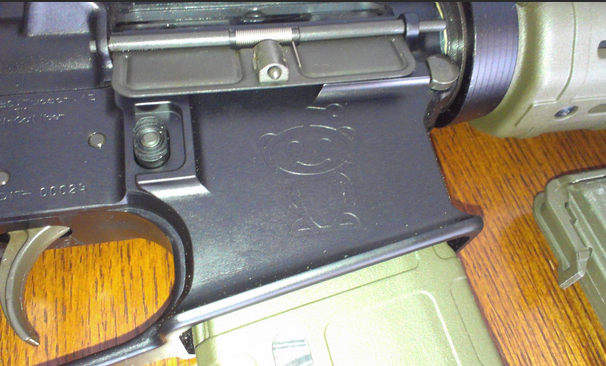 Photo via x—x–x-x/Reddit
The listing has attracted some significant attention from fellow Reddit users, or at least enough that x—x–x-x has his choice of buyers to sell to.
According to The New York Times, $1,100 was the going rate for an AR-15 before last December, when Adam Lanza used one of the semi-automatic rifles in the mass shooting in Newtown, Conn., setting off a nationwide spike in sales of the guns. The Times reports that AR-15s now sell for up to twice that price—if you can find one in stock.
In a recent update, x—x–x-x noted that he was going to be selling his gun to an individual who "can do a face-to-face transaction."
Current federal law doesn't require a private seller— in this case, x—x–x-x— to do a background check on the buyer if the latter is not in the business of selling firearms and resides in the same state as the seller. This is the same legal loophole that lets individuals purchase weapons at a gun show without much hassle
News of the AR-15 emblazoned with the Reddit mascot also came across Gawker's resident Reddit hater Adrian Chen, who in turn wrote about it while taking some cheap shots at the social news site in the process.
Subscribers of r/gunsforsale are well aware of the Chen piece. It currently sits atop of the front page with the headline "Seems Gawker is out to shut this sub down too."
Photo via x—x–x-x/Reddit