Taking a page from the Karen Smith playbook (her breasts can tell when it's raining!), a modern philanthropist is offering one hell of a service to lucky ladies in New York: free psychic breast readings. 
Not palm readings. Breast readings.
The Craigslist post originally appeared a week ago, under the men-seeking-women personals section. It's titled "Enjoy the experience of a Psychic Breast-reading – 48 ( surprisingly accurate)."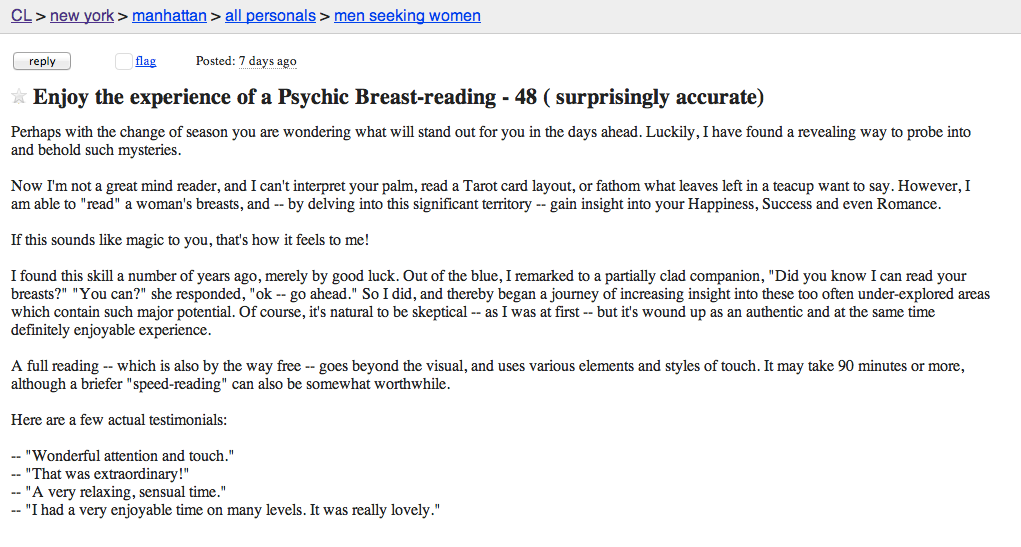 Perhaps with the change of season you are wondering what will stand out for you in the days ahead. Luckily, I have found a revealing way to probe into and behold such mysteries. 

Now I'm not a great mind reader, and I can't interpret your palm, read a Tarot card layout, or fathom what leaves left in a teacup want to say. However, I am able to "read" a woman's breasts, and — by delving into this significant territory — gain insight into your Happiness, Success and even Romance. 

If this sounds like magic to you, that's how it feels to me!

I found this skill a number of years ago, merely by good luck. Out of the blue, I remarked to a partially clad companion, "Did you know I can read your breasts?" "You can?" she responded, "ok — go ahead." So I did, and thereby began a journey of increasing insight into these too often under-explored areas which contain such major potential. Of course, it's natural to be skeptical — as I was at first — but it's wound up as an authentic and at the same time definitely enjoyable experience. 

A full reading — which is also by the way free — goes beyond the visual, and uses various elements and styles of touch. It may take 90 minutes or more, although a briefer "speed-reading" can also be somewhat worthwhile. 

Here are a few actual testimonials: 

— "Wonderful attention and touch." 

— "That was extraordinary!" 

— "A very relaxing, sensual time." 

— "I had a very enjoyable time on many levels. It was really lovely." 
Intrigued, I reached out with a few questions—things like how he discovered his unique talent, the methodology, and whether he's an equal-opportunity masseur, or if his talents were only limited to women. This is the response I received from the man who identified himself only as "D."
I only read women's breasts.

So if you qualify I will be happy to do yours.

If you will be doing this it is better not to explain the reading aspects ahead of time. I can answer some other questions ahead of time.

I discovered this over 20 years ago while still in my 20s. I have probably done over 50 readings. D.
Well then. 
Skeptics might say that given the gender exclusivity, this man is nothing more than a cheap pervert. Then again, he's asking nothing in return, and it's a generous offer: well over an hour of fondling and foreseeing. Who knows what secrets of your future you might unlock if you let a solid motorboat sneak into your session?
I'm more than 3,000 miles away from his stomping grounds, and when I told him I was a reporter, I received no response back. (He must be busy, right?) An intrepid soul with a rack to match should get in there quickly—while D is still sharing his handiwork for free.
Photo via indraw/Flickr