A guy called @fart has had enough.
Comedy writer Jon Hendren, possibly best known as a contributor to the amorphous nonsense-tweeting collective known as Weird Twitter, who along with his buddy @arr once raised at least $6 to sip Dom Pérignon out of a diaper, has arguably one of the most original Twitter feeds on the planet.
So when comedians reuse, retool, and steal unoriginal jokes, like Sammy Rhodes does, it's reasonable to spend a day calling them out on it.
A search of the phrase "bon iver tears" shows that @prodigalsam (followers: 127,000) has reused the gag in a few different forms. For example, he says he put on Bon Iver and washed his car with his tears, then it's his dishes with his tears, then God listens to Bon Iver to flood the Earth. 
"[What I] wouldn't give to get my grubby hands on prodigalsam's Stolen Joke Retooling Spreadsheet," Hendren tweeted.
This isn't the first time professional comedians and comedy writers have taken umbrage with Twitter comedians stealing and reusing jokes to shamelessly gain followers. They've been called "hacky," "unoriginal" and "joke stealers." In fact, Rhodes has been called out before by a Tumblr named "Borrowing Sam" which chronicles all of his stolen tweets. No, the joke-stealing isn't limited to his own repertoire.

Hendren found a bunch more instances: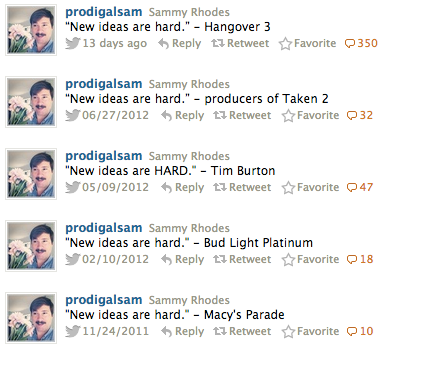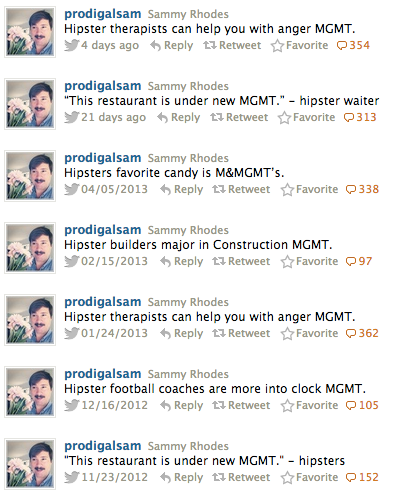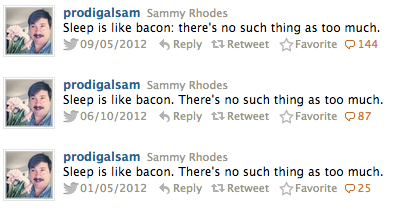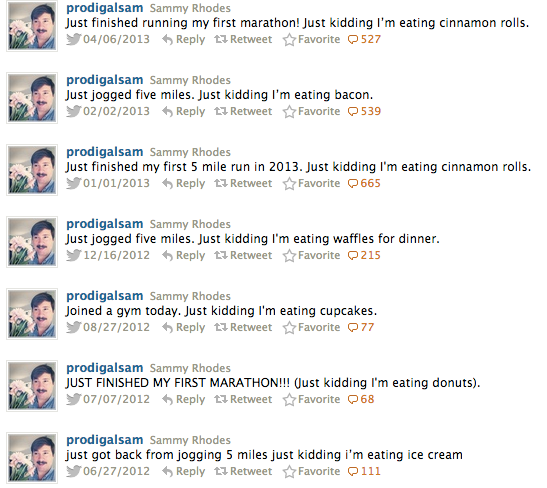 You can see all of them here. 
On his Tumblr, Rhodes wrote a response to other people who'd called him out for recycling and reusing jokes. 
Probably the biggest reason I recycle tweets is that half of my followers have never heard it before. If it's a joke I'm proud of, then it makes sense for me to tell it to as many people as possible. So a spike in followers typically means a spike in recycled tweets. If you've been following me for over a year, thank you, thank you, thank you. But when I recycle a tweet, before your eyes go all Kristen Stewart on me, please keep in mind the person who started following me last week. 
Rhodes compared reusing Tweets and jokes to networks airing reruns of your favorite shows, and to sharing an inside joke his followers can anticipate and participate in. 
Joke-stealing has become rampant on Twitter, and pilfered gags can often be traced back to Hendren and Co. Even though the retweet function exists, it's hard to know, especially after a tweet has gone viral, who the actual author is. To find out if someone is stealing or reusing your Tweets, you can use the site Who Stole My Tweet?. But what recourse do you have once you know?
Not much, unless you want to just call them out, according to Richard Lawson at The Atlantic. Even then, you might be accused of overreacting to Twitter plagiarism. Twitter celebrity and stand up comedian Rob Delaney had this to say on the matter of joke stealing via Twitter and beyond:
I had the good fortune some years ago to have a joke stolen from me and performed on TV by a comic I knew. At first I was upset, but then I realized that, poor etiquette aside, the guy was funny and he would've been on TV with or without my joke. I also realized that if I couldn't immediately write several more jokes to replace it, then I wasn't funny, and I had no business calling myself a comedian. So I forced myself to make a mental adjustment and decide that the guy had done me a giant favor. And he had. I became much less precious about material. Of course I'd be "proud" of a good joke, but I knew to thicken my skin and just produce. My silent motto when I began to encounter joke theft on Twitter was "Go ahead and take 'em, motherfucker. Here come five more." My goal as a comedian became to be a Delta Force Operator of humor that you could throw in an empty room with nothing and I could make something funny and kill people with it. This remains my goal.
But obviously, he added, if you steal jokes, "you're a c**t."
Photo via Sammy Rhodes/Facebook