Most singles on the dating market aren't looking for someone hot or sexy or rich or willing to have a threesome with a yoga instructor; they're just, to quote Bruce Springsteen, looking for someone to talk to, and a little of that human touch. For these people who've spent one too many sleepless nights alone, there's Snuggle Buddies, which charges clients anywhere from $60 an hour to $400 a night for a late-night cuddle sesh.
At this point, you might be asking yourself two questions: a) "What kind of person would charge $400 a night to be cuddled by a complete stranger?", and b) "I, too, love lying in bed for hours doing nothing, and would love to get paid for it. How can I get that job?" The answer to the former question is Redditor konekopeach, a former Snuggle Buddy employee who shared a few of her snuggling experiences in an AMA last night.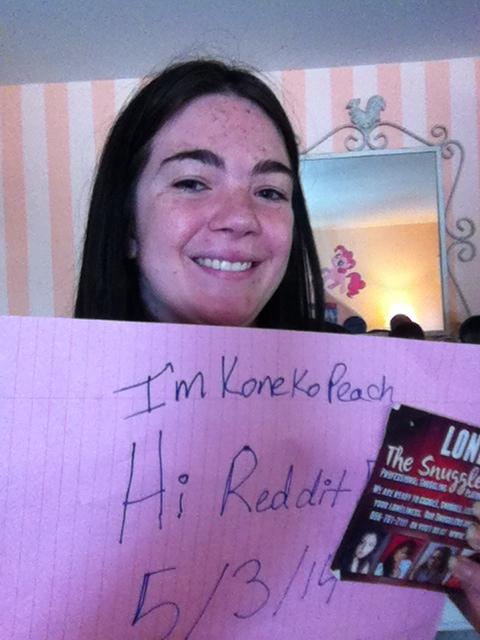 Via Reddit
In her AMA, Konekopeach explained that she worked for Snuggle Buddies a few months after its inception while she was in college, but left shortly afterward because she started feeling uncomfortable "going into other people's homes" (which kinda seems like a prerequisite for a job that requires you to lie in other people's beds, but anyway).
For the most part, however, konekopeach enjoyed her time as a professional snuggler. The average appointment, she says, was about two hours long, while the average client was "male, in his 50's, most likely a divorcee." Most of the time, they'd make small talk while they cuddled; afterward, the client would pay her fee, which, after Snuggle Buddies received their cut, came out to a (relatively modest) $30 per hour.
Although konekopeach says she did get a few odd requests during sessions, such as that she wear stockings or kiss the client on the cheek before she left, she insists that the service was purely platonic, and that there was "no sexual contact of any kind" allowed on the job. (She did not, however, address other Redditors' repeated questions about whether her clients got erections during the session). She did, however, acquiesce to one client's request to lick her eyebrows during a sesison. "The gentleman asked first, so I had no qualms," she writes. "It actually kind of tickled."
While koneokopeach's boyfriend knew of and OK'ed her work with Snuggle Buddies, she never told her parents that she was working as a professional snuggler: "I mentioned it early on as a 'Elderly companion service' and I got the death stare, so it never came up again," she says. " My boyfriend also mentioned it to his parents and his dad thought it was prostitution so we lied and said I quit a little awhile before I actually did."
That doesn't mean, however, that she'd discourage anyone who wants to pursue a career as a professional snuggler, either with Snuggle Buddies or as a freelancer. She just has one piece of advice for those considering entering the field:  "Know your boundaries, stick to them, [and] at the end of the day your safety is key and going into other people's homes will never be 100 perent safe. Know your accepted level of risk."
Oh, and also: Try not to fart, especially when you're the little spoon.
"I am a rather gassy person actually (being vegetarian will do that) but fortunately they're usually silent," she writes. "Once I did have a client hear me fart and he got a little creepy with it telling me I was 'naughty.' Um, no thanks, not my thing."
H/T Betabeat via Reddit | Photo by nicolafchild/Flickr (CC BY 2.0)