Possums, those beady-eyed backyard scavengers who are willing to eat basically anything, are having an internet moment.
Since the beginning of the year, several accounts dedicated to possum memes (or opossums, for you purists) have popped up on social sites, and a few of them have developed a loyal following. While IRL possums don't have a reputation for conventionally cute behaviors—unlike cats and dogs, who supply plenty of "cute" material for the internet—they've become meme fodder anyway. The persona of a possum as a devious, sometimes angry animal seems to resonate deeply with many online communities. And photos of possums baring teeth, which they do whenever they feel threatened, make the perfect backdrop for memes.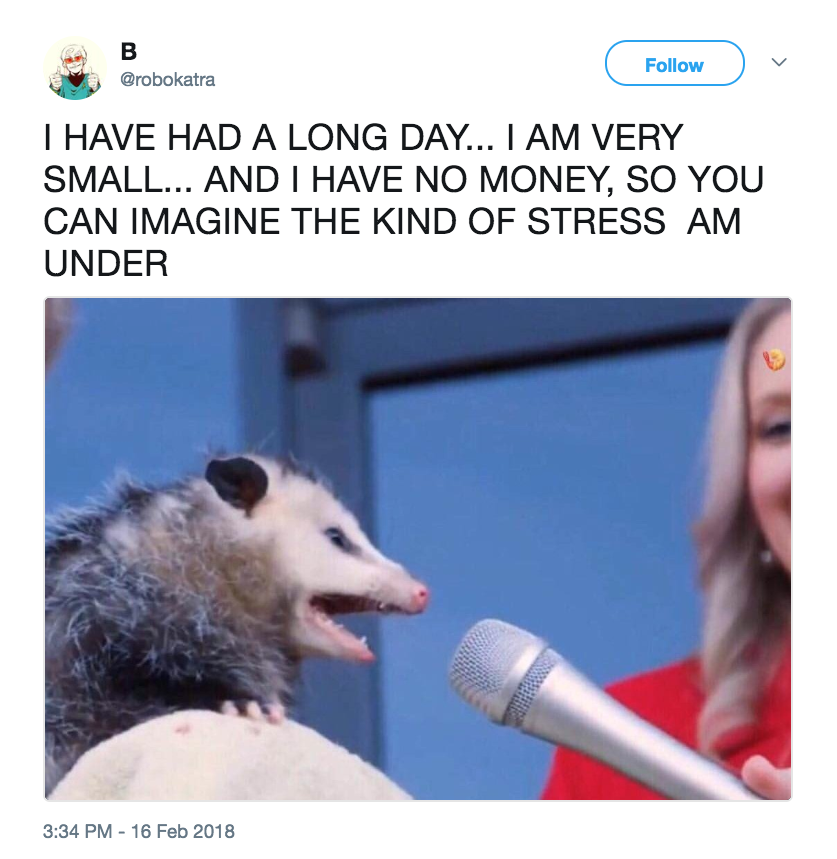 One of the most popular possum memes of 2018 is an image of an interviewer holding up a microphone to a possum. The "Interview Possum" meme works as a basic caption contest in which people imagine different opinions that the possum is yelling into the microphone. The best part about the meme is that the image is real—it's of this year's Sand Mountain Sam, a possum chosen every year to make weather predictions for Alabama on Groundhog Day. Know Your Meme has a thorough (and evolving) chronology of Interview Possum's iterations as a pineapple pizza apologist, a grumpy right-wing talk show host, a stand-up comedian, and an icon of "trash culture." The versatility of this one particular shot of Sand Mountain Sam may have been what revealed the potential of possums as a new internet mascot.
Olivia Graves, who runs the Olivia's O'meme Outlet Facebook page, has spent plenty of time thinking about what makes possums so beloved online. In an interview with the Daily Dot over Facebook Messenger, Graves said that people often misunderstand the housecat-sized marsupials. "They've been regarded as useless pests, ones who transmit rabies and disease," she said. "In reality, they just want to be left alone and eat ticks." The disposition of the possum is what she believes makes the animals so easy to relate to, and a great subject for memes.
The half-assed burrowing tendencies, nomadic lifestyle, and nocturnal eating habits of the possum may remind us of the average millennial meme-lover. But possums are interesting to look at and laugh at for reasons that go beyond how we see ourselves, Graves believes. She connects the rise of possum popularity with our intrinsic need to confront what's going on around us. "With the rise of surreal humor as a coping mechanism in our current [cultural] climate, possums seem to express our existential and misanthropic tendencies."
The co-owners of the popular @own__ass Twitter account agreed with Graves that possum memes aren't always about an ironic appreciation for a so-ugly-maybe-it's-cute animal. They are rooted in actual love for a villainized creature. Describing possum lovers online as "devout," @own__ass (two content creators who choose to remain anonymous) told the Daily Dot through Twitter DM, "We try not to only make memes out of our opossum pals but also just share cute photos of them. Opossum memes can be anything, we just want to bring them into the view of the people."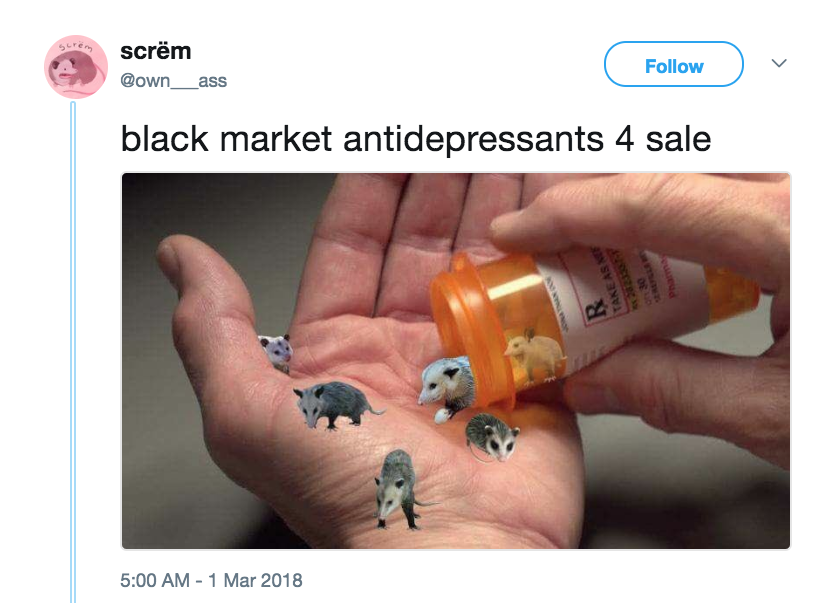 The @own__ass account, whose username is a reference to a popular possum meme that shows a possum literally screaming at its own butt, has amassed more than 47,000 followers since launching in January. The creators were first interviewed by BuzzFeed in March, and they've clearly tapped into a meme that the internet didn't even know it needed.
Older memes were built upon Xeroxed snark that grew increasingly sly and self-referential. Memes that simply aim to create an "in-joke" that spawns off in different directions can often devolve to violence, banality, and hopelessness long after the primary "joke" they're based on has lost its flavor. The rise of possum memes is indicative of a shift in humor, one that veers instead towards sincerity, compassion, and humanism. They aim for connection, which is a large part of their appeal.
There's a reason why possums work in a meme format. The animals are somewhere between dogs on skateboards and pizza rat; they're more endearing than revolting. Online, meme makers have also established an intrinsic, performative persona for the animal. On @own__ass, possums speak in spaced-out text and don't follow grammar and spelling rules. They also use a lot of umlauts. @own__ass references the "reject tomät" meme as a personal favorite of theirs (the meme currently has racked up over 22K likes), and it's a case-in-point example of the style and language the account has bestowed upon the possum voice.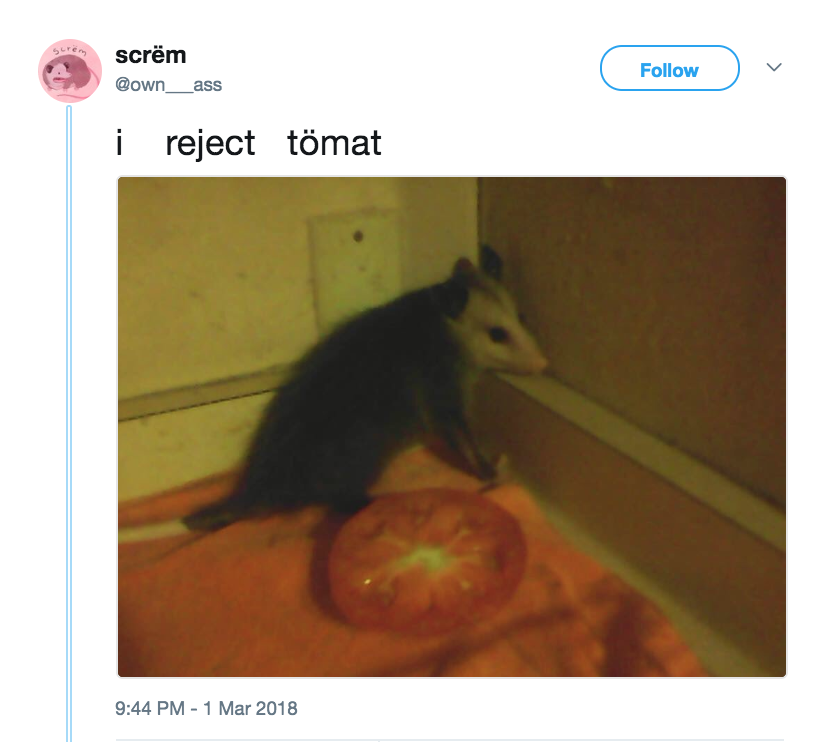 Emphasizing possums' imagined language has helped brand the possums as a lovable internet animal. With their perpetually cranky or worried expressions, it only makes sense that possums would speak a language of patchworked pronouns and missing verb tenses. @own__ass calls this "pöss-speak," and they're breezy about its beginnings, saying, "We figure that making the pöss speak was a fun way to give possums a voice — it was just something we made up a while ago!"
Successful meme accounts aren't just about dialing into a funny moment, but about capitalizing on a cultural fixation and giving it longevity. For whatever reason, possum meme content isn't going anywhere anytime soon. And @own__ass thinks it doesn't have to be as complicated as people looking for an animal that they can deeply relate to. "For a long time we tried to boil it down to a philosophy and what our content says about people," they write in response to a question about the overarching characteristics of possum lovers. "But a lot of people just want cute photos of animals and we're just bringing awareness to an often overlooked cutie."
As for whether the term "opossum" or "possum" is etymologically correct for their purposes, @own__ass gave us the textual equivalent of a shrug. (Not a shruggie.) "We kind of use both interchangeably, even though that's not technically correct," they say before adding, "We love all possums!" Our coming o/possum overlords would approve.
READ MORE: