Before 22-year-old Sarah Cafferkey went missing from her home in Melbourne Nov. 9, she had forged a complex web of social connections on Facebook. Cafferkey—like many other women her age—counted nearly 1,000 people as friends on the social network, any one of whom could watch as updates and photographs from her life trickled through their news feed.  
On Saturday Police discovered Cafferkey's body in a rendered brick house in Point Cook, a Melbourne suburb. And now police believe clues left on Facebook will help them confirm the identify of her murderer.
Police have named 47-year-old Steven Hunter as a person of interest in the case. He was Cafferkey's Facebook friend and neighbor but also a convicted murderer who created a Facebook page that called his home a "rape dungeon."
As recently as Nov. 4—five days before she disappeared—Cafferkey was involved in a spat with Hunter and his apparent housemate, Chris Stewart, on Facebook:
Steven Hunter: "Love the pics . . . Looking good. Heartbreaker lol."
Sarah Cafferkey: "Hehe miss your presence pal (:"
Steven Hunter: "Same . . . Catch up when you got free time . . . There better be a beverage handy lol. See ya mate!"
Chris Stewart: "Yeah me too lets make it a 3 way true"
Sarah Cafferkey: "Unlike the way your mind works, not every one else operates on a sexual basis. Mature people of opposite sex's are able to have a friendship based on genuine interest and care for each other. Stop being immature over Facebook please I've had enough. I will delete you if you are unable to be civil."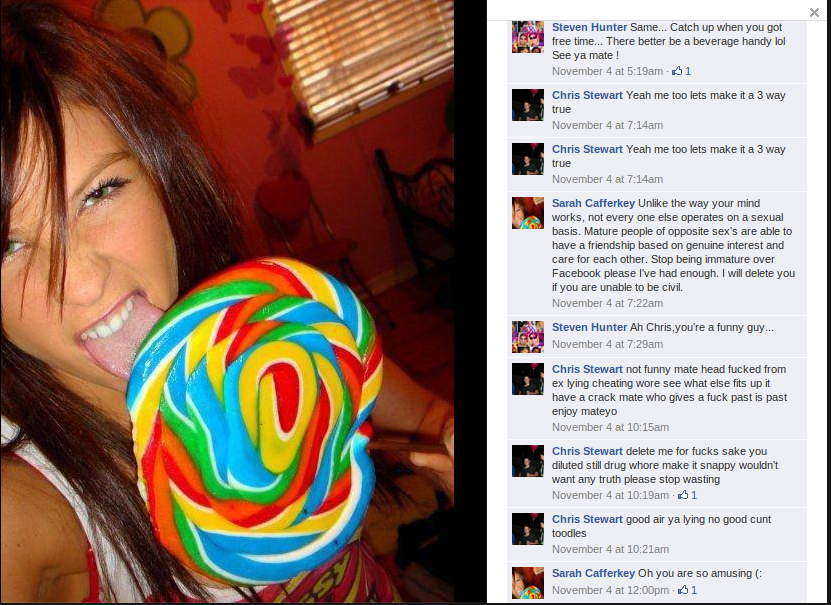 Stewart has been cleared as a suspect in the case. Hunter hasn't been seen since police searched the house and didn't show to work on Monday.
In 1986, Hunter stabbed 18-year-old Jacqueline Mathews to death. He was sentenced to 13 years in prison. In 1990, he staged an escape from Pentridge Prison, only to be caught 30 minutes later hiding under a trampoline.
Hunter had apparently been going through a rough patch recently. According to a post dated Nov. 1, he just received a "Dear John" letter from someone named Veronica Sabo. "Its soul destroying that we are over V," he posted.
Earlier, on Oct. 26 he wrote:
"My favourite time of the night is now when the silence is a comfort…it the time my thoughts and heart come together & although laying by myself,eyes closed consumed with memories of Veronica, suddenly I'm alone no more!"
Police confirmed to Sky News Monday that Facebook were scouring Cafferkey's Facebook posts to learn more about her alleged murderer.
We still don't know the exact circumstances that lead to Cafferkey's death, but Facebook has played a key role in at least one other recent high-profile murder case in Australia. On May 10, 2010, Christopher Dannevig murdered 18-year-old Nona Belomesoff after creating a fake Facebook profile and luring her to a remote part of Australia with a phony job offer.
Photo via Sarah Cafferkey/Facebook