A "remarkably offensive," "totally inappropriate tweet" from Philadelphia's major daily newspaper was pulled this morning after posting last night to the ire of many with any empathy.
The tweet, posted at 10:18pm ET Wednesday, concerned a story written by Philadelphia Inquirer staff writer Kristen A. Graham about a special-education teacher at Ethan Allen Elementary School in Mayfair, a neighborhood in northeast Philadelphia, who was accused this week of carrying out a sexual relationship with one of her students, a 14-year-old boy.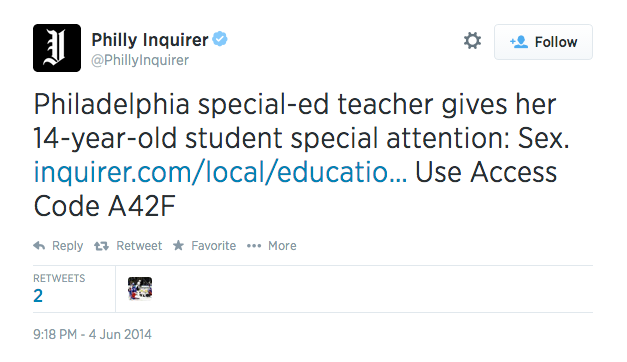 The teacher, Stephanie Amato, surrendered to authorities Wednesday, according to a police spokeswoman. The 30-year-old is being accused of statutory sexual assault, involuntary deviate sexual intercourse, unlawful contact with a minor, interference with custody of children, endangering the welfare of a child, corruption of a minor, indecent assault, and indecent exposure. 
According to police spokeswoman Officer Jillian Russell, the 14-year-old student, who received special-education services from the school, reported that he'd had sex with Amato "on several occasions." His parents pulled him from Ethan Allen as soon as they learned of the relationship. Amato's currently suspended from the school with pay. A spokesman for the Philadelphia school district said Wednesday that she could lose her pay after an administrative hearing next week. 
About an hour ago, the Inquirer tweeted an apology, and the offending tweet appears to have been deleted. 
An Inquirer tweet about a teacher's arrest on charges she had sex with a student was misguided. Statutory rape is not to be taken lightly.

— Philly Inquirer (@PhillyInquirer) June 5, 2014
This is the second time the Philadelphia Inquirer has been in the news for reasons outside of writing it this week, though the two instances have little in common. The paper's co-owner Lewis Katz died in a plane crash in Massachusetts on Sunday.
Photo by Kevin Burkett/Flickr (CC BY 2.0)