Sir Patrick Stewart has been having a ball with his fiancée, New York jazz singer Sunny Ozell. First, she taught him how to eat pizza without a fork and knife. Now, he's teaching her—and, thanks to YouTube, the rest of us—the wonders of hammy acting.
You know the take and the double take, two staples of comedy. And you may even know the triple take. But thanks to Ozell and a video of the renowned actor that she posted to her YouTube channel yesterday, you're about to learn what must surely be every actor's secret weapon—the quadruple take.
Stewart richly intones, "Her buns, they are the best–!" in the voice that made him an acclaimed Shakespearean actor long before he took his turn on the U.S.S. Enterprise as Captain Jean-Luc Picard. He also listens to Stevie Wonder, and playfully tells Ozell she's "here to learn, not to talk."
Then he tutors us all, like a pro, natch.
Since the video went viral, Redditors have already started delivering the GIFs: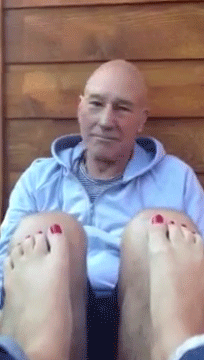 GIF by mequals1m1w/Reddit
Stewart and Ozell, who met while she was waitressing near the Brooklyn Academy of Music, have been dating since 2009. Stewart's pal, Sir Ian McKellen, is reportedly planning to officiate their wedding.
Photo via richandwhite/Reddit