Valve's Steam service is one of the primary ways people buy and play computer games, and it also lets you connect with other players and see what your gaming friends are up to. It's that last feature that's now being exploited in an amusing new meme called "now playing."
When you're signed into Steam, you'll see notifications that one of your friends has started playing a certain game: "w33 is now playing DOTA 2," or whatever the case may be. By cleverly changing their names or using a little Photoshop, meme makers have turned these notifications into a big, nasty joke.
The survival game Don't Starve Together provided the initial inspiration for the meme, with a series of jokes picking on countries that have been stereotyped as suffering from food insecurity—places where people are literally starving.
In the first of these posts to go truly viral, the player had changed his username to "the entire population of Russia":
https://twitter.com/ColorsWasShit/status/881392070786564097
This was soon followed by a Photoshopped edit, changing "Russia" to "Venezuela," where a hunger crisis is ongoing:

These dark memes set the tone for the "Now Playing" memes to come, which also tackle usually unfunny topics, like the Sept. 11, 2001 attacks on New York City:

The 1999 massacre at Columbine High School:

And more recent terror attacks in London and France:

This meme is at its best when people set up the joke by changing their Steam usernames and playing real games. The earliest example might be this one, where "Donald Trump" is playing Papers, Please, a critically acclaimed game that illustrates the plight of refugees.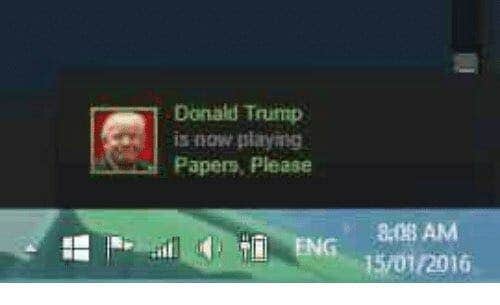 Other clever entries include this one, wherein history's most famous communist, Karl Marx, plays the game AdVenture Capitalist. 

It can be stretched to fit virtually any theme, but doing so sometimes kills the joke. When meme fans on Reddit became outraged at CNN in early July, someone created this meme as a way of attacking the network. It's definitely a reach when the laugh is supposed to come from references to real video games.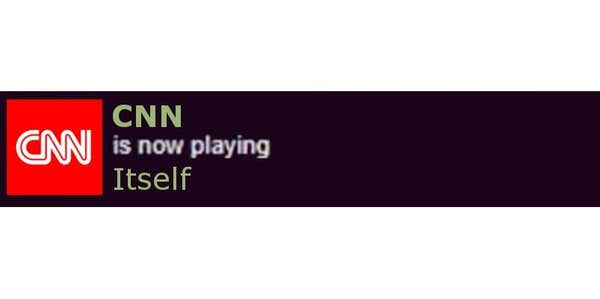 The appeal of the meme is in the challenge of finding the most humorous, explosive combinations of famous personalities and video games. That's also what limits its appeal to mainstream "normie" meme consumers, keeping it exclusive and "dank" for those in the know. "Now playing" will never set the meme world on fire, but it has the potential to be extremely funny when deployed at the right time. And, as the library of Steam games grows, so do the possible jokes.