For the past couple of weeks, Nickelback's Chad Kroeger and Slipknot/Stone Sour's Corey Taylor have been in an ongoing feud that found the two making dismissive (but unimpressive) remarks about each other's music. What originally began as an innocent comment made by someone interviewing Kroeger about how Nickelback sounds like Stone Sour has since become a music beef that simultaneously manages to be amusing and boring (with an unexpected but appreciated appearance from Smash Mouth serving as the mediator).
But, who really is the better of the two? Nickelback or Slipknot? Well, we've decided to put the band's best memes against each other. Who reigns supreme when it comes to the memes? Canada's finest or Iowa's masked metal men?
1) The mashups
Strangely, there are a lot more Slipknot mashups than there are Nickelback mashups. "I don't know why so many people love my voice for mashups or remixes honestly," Taylor said in a recent interview with Gizmodo. "Maybe it's the rhythms, maybe it's the tonality of it all… Or maybe they just think it's funny to stick these heavy ass vox on a weird techno kiddie song hahaha."
It's true: from this mashup of Slipknot's "Psychosocial" and Vengaboys' "We Like To Party!" to this one of "Psychosocial" and Justin Bieber's "Baby," they're undeniably weird, but still worth a listen.
However, this mashup of two Nickelback songs ("How You Remind Me" and "Rockstar") and that one Avril Lavigne song ("Complicated") gives Slipknot a run for its money (along with this mashup of Nickelback's "How You Remind Me" and The Chainsmokers' "Paris").
But Slipknot wins this round not only for quantity but quality, having a collection of mashups that truly reflect how fucking weird the web can be.
Winner: Slipknot
2) The children
Have you even heard of a kid listening to Nickelback? No, right? Well, they don't like it. 
Nickelback is so disliked that parents have even grounded their kids for listening to it. Who would've thought that a song by a group of grown men that wear masks and refer to their most devout fans as "Maggots" would be more suitable for children than a band that doesn't do that? But Slipknot it. 
Slipknot wins once again.
Winner: Slipknot
3) The Christmas light shows 
Christmas light shows set to bangers have always been popular online. Then there are ones set to Nickelback and Slipknot. Amazingly, there are two different Christmas light shows synced to Nickelback's "Burn It To The Ground," but we're going with YouTube user Hoops' version, because the presentation was better than the other (even though that one had more views).
However, YouTube user Slayer Bob wins for his Christmas light show set to Slipknot's "Psychosocial" for one very specific component: the Christmas tree. Watching the Christmas tree recite Taylor's lines is the Christmas miracle I never knew I wanted, and the devil horns are just the icing on the kick to it all.
Winner: Slipknot
4) The Vines 
Both bands have garnered followers who used to make ironic vines about them. In the Slipknot corner, a duo that had a long running back and forth about who was the bigger fan.
In the other corner, straight fire.
https://www.youtube.com/watch?v=3KYNPCYgB0I&feature=youtu.be
It's a little unbalanced because there was more than one "You Don't Listen To Slipknot" vine, while that Nickelback vine stands all on its own. However, as funny as it was to see Getter and RegalJoe go back and forth, Curren Caples perfectly captured Nickelback fandom in six seconds: crazy, extreme, but beautiful in its own way.
Winner: Nickelback
5) The song memes 
Slipknot and Nickelback's most popular music videos, respectively, have also inspired a number of memes. "Duality" by Slipknot is responsible for everything eyes. And ducks. 
https://www.youtube.com/watch?v=JlO7nmCxf5M
But Nickelback's "Photograph" obviously wins because it's one of the best examples of the twisted genius of the internet. Literally, the first 10 seconds of "Photograph" are all that matters, with Kroeger immortalized in a way that has been parodied time and time and time again.
Winner: Nickelback
6) The accessories 
You can't think about the two frontmen without taking into consideration their appearances, particularly Taylor's mask and Kroeger's hair. There was this beautiful moment between Larry King and Taylor where the latter put on his mask (only to reveal there was another mask underneath it) for the famed radio and TV host.
And we're all familiar with the memes making fun of Kroeger's hair (specifically saying how it looks like ramen noodles).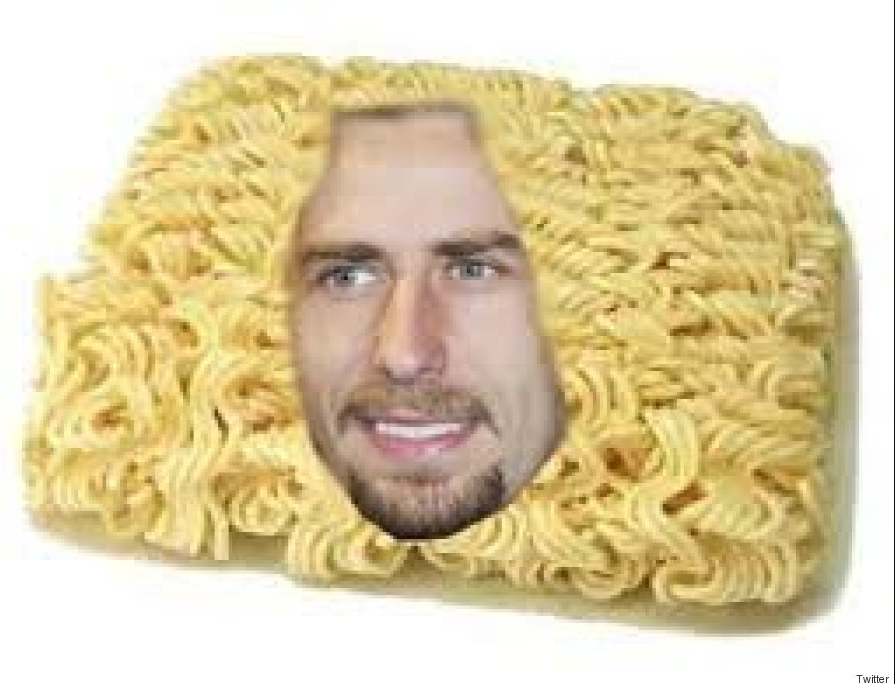 7) The burns 
Now, for the main event: Whose insults are the best? Kroeger started all of this by calling Stone Sour "Nickelback Lite," while also referring to Slipknot's music as a gimmick. Taylor recently compared Kroeger to KFC, but to be clear, most of Taylor's insults have been directed at Kroeger and him only. Honestly, that's respectable, with Taylor even clarifying that he only has beef with Kroeger. But this isn't the only thing that makes Taylor the winner. Back in 2002 he said that Kroeger "looks like Shaggy from Scooby-Doo," which is so accurate.
Winner: Slipknot
There you have it, by a 4-3 score (by a hair, perhaps?). Slipknot is the winner.