The Fletcher Street Stables, the real-life organization of Black urban cowboys who ride and take care of horses in North Philadelphia and who are at the center of Concrete Cowboy, would be utterly fascinating subjects of a documentary. The group's history covers more than a century, dispelling the myth—and Hollywood-fueled whitewashed lie—that all cowboys were white, and you can tell that Concrete Cowboy is only scratching the surface. Several of the group's members appear in the film, and the credits feature footage of some of them speaking of how being able to ride horses in the city has improved their lives and kept them out of trouble.
Concrete Cowboy

Release Date:
April 2, 2021
Director:
Ricky Staub
Streaming:
Netflix
After he's expelled from his Detroit high school, a 15-year-old boy is dropped off at his estranged father's house in North Philadelphia for the summer and is welcomed into a community of Black urban horse riders.
But Concrete Cowboy isn't a documentary. Based on G. Neri's 2011 novel Ghetto Cowboy, Concrete Cowboy uses the modern western and the backdrop of the Fletcher Street Stables to depict a largely predictable coming-of-age story. It has some solid performances from stars Idris Elba and Stranger Things star Caleb McLaughlin, but first-time director Ricky Staub's film bites off more than it can chew.
It's clear from the first scene that Concrete Cowboy is not reinventing the saddle. We're introduced to Cole (McLaughlin), a 15-year-old who's about to be expelled from his high school in Detroit for getting into too many fights. Worried about the path he might take, his mother Amahle (Liz Priestley) drives Cole to Philadelphia and drops him off at the house of his estranged father Harp (Elba). And it immediately becomes clear that it's not exactly the welcome Cole might've expected when his father's home has an empty fridge and a horse living there.
The crossroads that lay at Cole's feet immediately become clear. He reconnects with his cousin Smush (Jharrel Jerome), whose lifestyle Harp doesn't approve of; Harp explicitly says early on that if Cole keeps hanging out on the streets with his cousin, he isn't welcome home. Cole is enveloped within the tight-knit Fletcher Street Stables after connecting with a horse who's about as stubborn as he is (that doubles as a on-the-nose metaphor).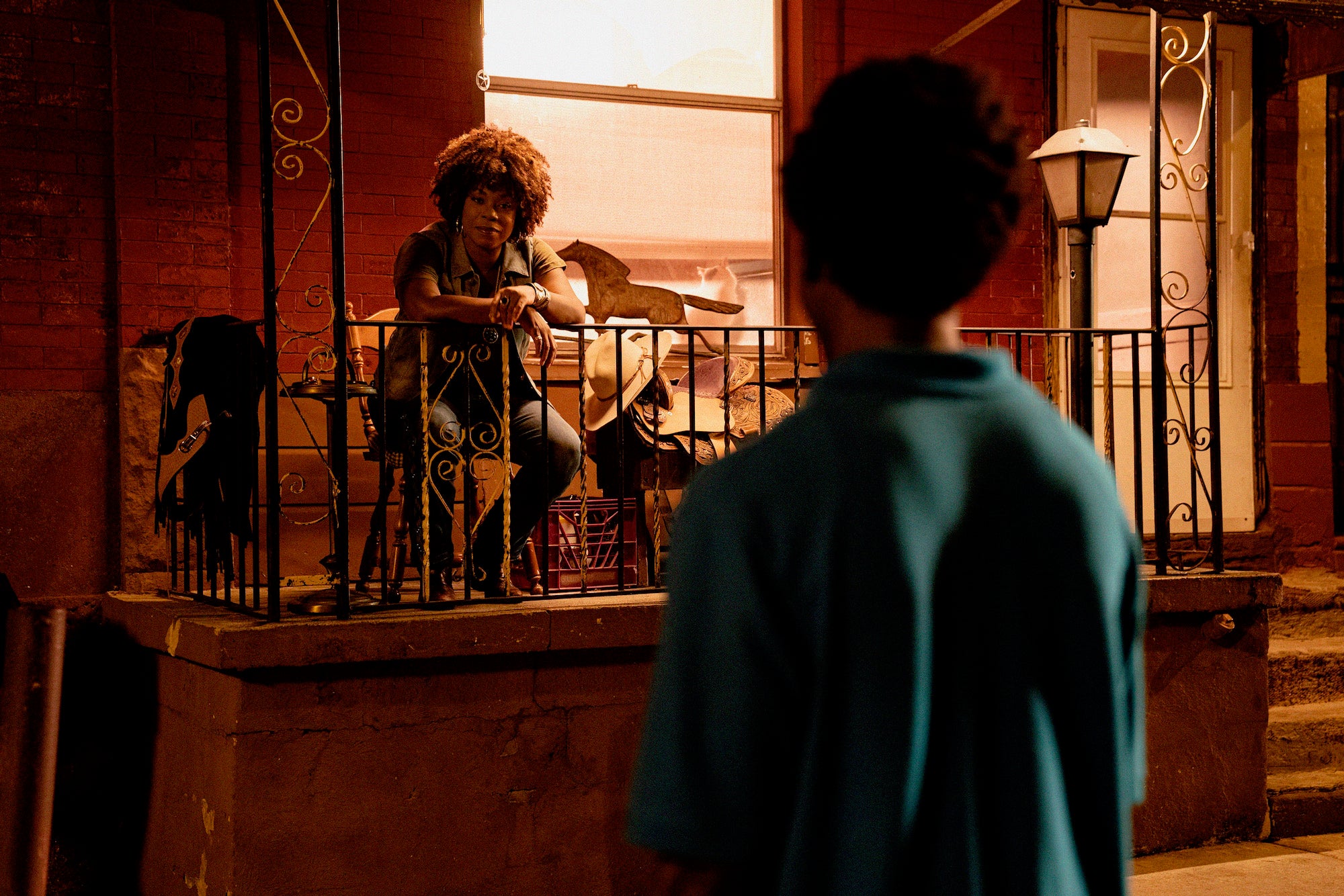 Outside forces such as gentrification—which had already shut down so many of Philadelphia's urban riding clubs—looking to knock down the stables are ever-present. And Leroy (Method Man), a cop who grew up with Fletcher Street Stables, represents the conflicting nature that can come when two worlds collide. And then there's the growing tension between Cole and Harp, whose relationship with one another is fraught and loaded with baggage, that not even joining the Fletcher Street Stables can immediately repair.
Concrete Cowboy attempts to take on all of this and more with middling results; some aspects feel half-baked, even if it goes in the direction you expect. But Elba and McLaughlin in particular help make these characters feel real. Cole's conflict and anguish plays out on his face at every turn as a kid who, for perhaps the first time, is able to channel it into something bigger. Elba has a more muted performance, but in rare moments, you feel just how much Harp's experiences has affected him.
The bright spot is the focus on the Fletcher Street Stables. You can easily sit back and get lost in the stories that Harp and his fellow riders share with one another as Cole is enraptured by them. Cole (who is essentially the audience surrogate) had no idea that Black cowboys existed, something that one of the riders blames on "some Hollywood John Wayne bullshit." (Around 25% of cowboys were Black, per one estimate.) As Nessi (Lorraine Toussaint) puts it, "Hollywood has whitewashed us. They just deleted us right out of the history books." And when these riders are in action, Staub's direction and Minka Farthing-Kohl's cinematography captures something truly wonderful.
Concrete Cowboy does some course-correcting on that whitewashed assumption, as will Netflix's The Harder They Fall (which Elba also stars in), which will be released later this year. When you leave the stables and horses behind, it goes down a well-trodden path. It's mostly well-executed, but in comparison, its highs are more stark, leaving you to wish for even more.
Concrete Cowboy is now streaming on Netflix.