Earlier this week, a now-deleted Vine of 16-year-old Nash Grier screaming the word "fag" was called out by YouTuber Tyler Oakley. Grier, a Vine star with 8.7 million followers and a movie deal, apologized, saying he was "young, ignorant, stupid, and in a bad place." He said he's moved on and learned from his mistakes.
To get a larger scope of this bad place, Brandon Joseph of Poison Paradise compiled a list of every time Grier used the word "fag" or "gay" on Twitter. He conducted the search on Topsy, and you can do the same. You can also search Google for similar results. Grier may have moved on, but the tweets are still there.
HAHAHAH FAG https://t.co/EK7YP1Bqpl

— Nash Grier (@Nashgrier) April 15, 2013
Grier has apologized for his choice of words. He has also claimed other people tweeted out offensive content, not him.
nash apologized for his homophobic tweets but he also said that it was some kid who tweeted it pic.twitter.com/MMlUAT1CJp

— lol linda (@Linda_To_The_Le) July 7, 2014
Yesterday, Grier's father told the Charlotte Observer his son is not "a hatemonger or a homophobe," and that the vine is actually from April 2013, when he was younger and "playing around with a new app."
Anyway, Grier's social media trail, containing dozens of homophobic slurs, is still available and public. Here's what that "playing around" looked like.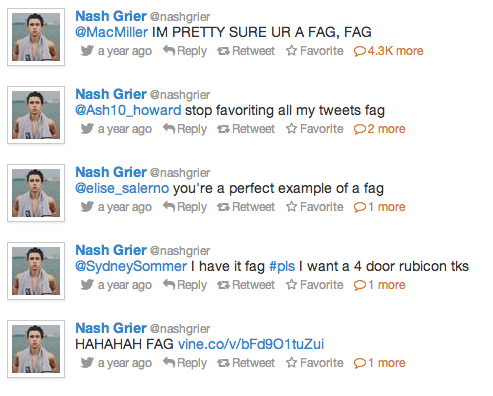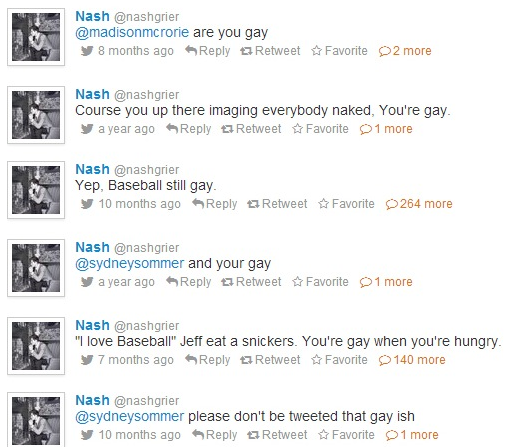 There's a lot more.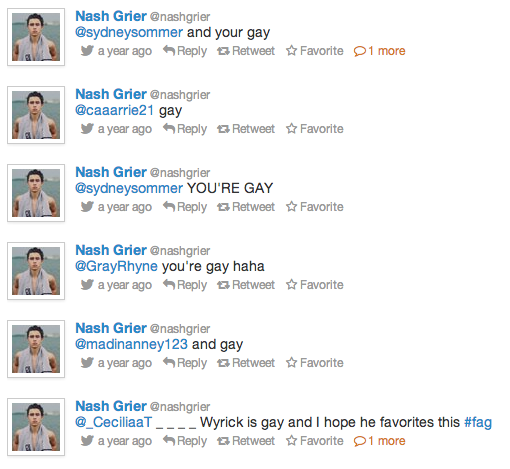 (Here's a link to that last one.)
Here's what a search for "queer" turns up: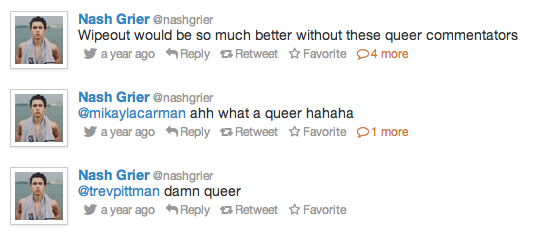 Sure, it could be said this is the work of some dumb teenager who doesn't know what words actually mean, but that's pretty convenient, especially from a damage control perspective. 
Perhaps Grier should disappear from the Internet for a bit.  
Photo via Vianey sesten/Wikimedia Commons (CC BY 2.0)