Apple's in-house design messiah Sir Jonathan Ive is perhaps best known for being the bald British man in a T-shirt in the accompanying video for every single Apple product announcement.
Jony, as Steve Jobs used to call him, rarely gives interviews, famously spending his time in Apple's secret design lab, where even the employees don't know what they're working on.
As you can imagine, it's extremely unusual to run into Ive on a night out in London. Despite growing up here, he now lives in California. 
However, Ive did surface in London's celebrity hotspot, the Chiltern Firehouse, an establishment the Daily Mail refers to as a "trendy new haunt," often visited by Lindsay Lohan, Sofia Coppola, and even Stephen Hawking.
It was a typical night at the Firehouse. TV presenter A.J. Odudu was there, alongside movie producer Harvey Weinstein (who stared at us throughout the evening), Arctic Monkeys lead singer Alex Turner, and Andre Balazs, the venue's owner. Foursquare's David Rosenberg was the one who first spotted Jony Ive and brought him to my attention. 
Word quickly began to spread.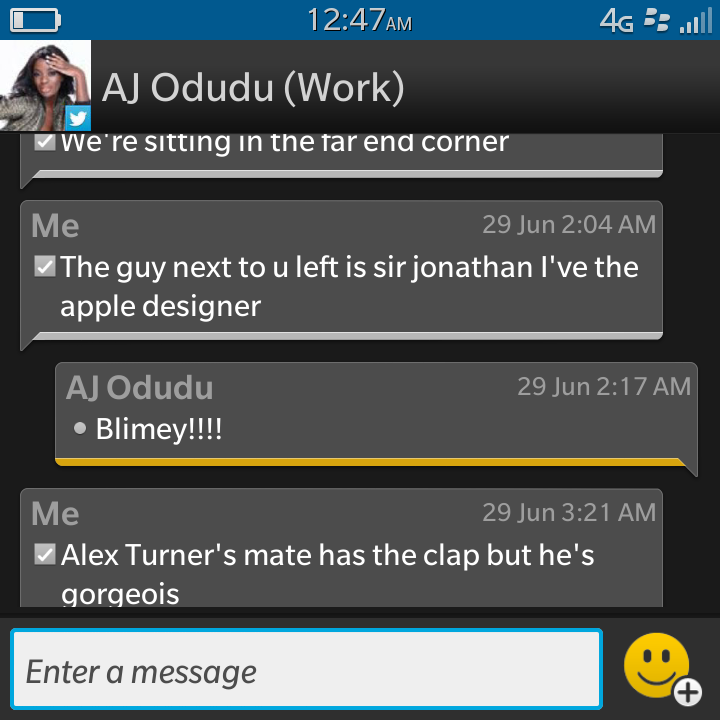 I managed to sit next to the secretive designer and flaunted my Blackberry 9900 to annoy him. I even went so far as telling the Apple designer that I use a Blackberry to commemorate the 2011 London riots. Those five nights of looting and violence enshrined the Blackberry as the device of the people, as it was Blackberry Messenger that allowed thousands of teens to avoid police monitoring and organize looting, as opposed to the iPhone, the elite's handset. Ive reacted badly, saying, "You are being controversial," and quickly changed the subject, leaning his head down and focusing on someone else.
Face-to-face, Ive is far less sure of himself than he appears in the meticulous Apple advertisements. Regardless of what I said, he kept being fixated with my name, Nimrod, as if it was a sleek new device. Sir Ive didn't care for my surname, and didn't want to Google me, either. Eventually, I had to Google myself in front of him to prove I'm a somebody. 
Bizarrely, Ive didn't carry a phone on him. He explained to me that, as a policy, he never carries business cards or takes someone else's details. That seemed odd, as much bigger celebrities such as Kanye West actually asked me for my contact details when we met.
I explained to Sir Ive that I constantly have an urge to pitch myself to everyone when I first meet them. 
"I've been there," he said, and he went on to refer to previous times in his life where he had to do the same. Now he's only interested in the adventures of others, rather than who they are exactly.
Original photo via Michael Johnson/Flickr | Remix by Max Fleishman