Is imitation the sincerest form of flattery? That might not have been Danielle Bruckman's intention, but she's certainly turned imitation into a high-tech art form, by replicating the selfies taken by the guy who now has her iPhone.
Last New Year's Eve, Bruckman's phone went missing. She eventually got a replacement, but due to a glitch in the iPhone's Cloud, she virtually apprehended the new owner via the most modern of clues: his selfies. According to My Cloud Pal, the Tumblr she started, "Thanks to Apple and some kinks in the cloud, I receive all of his pictures in my photo stream." So far, she has more than 250 of them.
Instead of saying, "Hey, you, get off of my Cloud," she decided to re-enact his photos herself. The blog's tagline sums it up: "This is one woman's journey, through another man's selfies." And so she catalogued an entire year's worth.
The Cloudman is really into his body, which seems appropriate: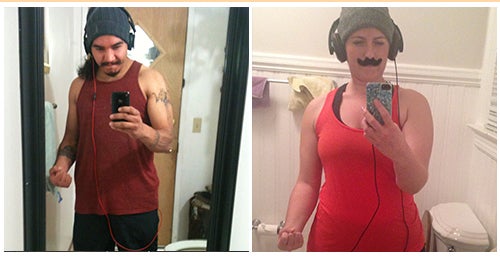 And he's really into his facial hair: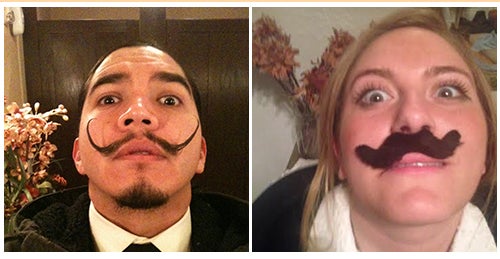 He's really into himself, but isn't that the point of selfies? More impressive: She chronicled his gym visits and subsequent weight loss. They reached a goal together.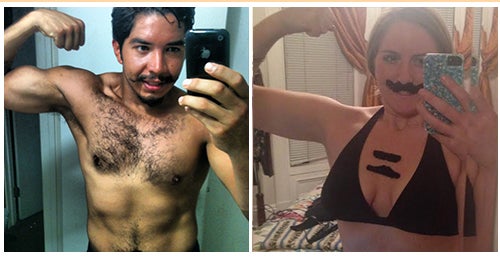 In a way, her work sort of mirrors this series from a couple years back, but touches more on the way technology allows us to appropriate and replicate, as well as shadow someone's life. She encourages other people who might have been the victim of the same Cloud glitch to send in their photos as well, so that she might re-enact them. Instead of getting mad, Bruckman literally got even.
H/T BuzzFeed | Photos via My Cloud Pal/Tumblr