Here at the Daily Dot, we swap GIF images with each other every morning. Now we're looping you in. In the Morning GIF, we feature a popular—or just plain cool—GIF we found on Reddit, Canvas, or elsewhere on the Internet.
The Tumblr PrettyColors does what it says on the tin: It is nothing more than a continuous flow of pretty colors, nominated by the Tumblr community. 
It is also nothing less … than spectacular.
You don't have to be an Art History major to appreciate the purely aesthetic pleasure in watching this continuously changing, swirling GIF of crowdsourced beauty. I want this as wallpaper: not on my computer, on my wall. Shy on the yellows, rich on the blues, indigos, and reds, this is a cyclone of sensual pleasure. If the Orgasmatron from Barbarella had a print-out, this would be it. 
You can submit your own if you don't like the ones on display and are more, say, Team Magenta than Team Indigo. Now just lie back and let the pretty colors just wash over you. This won't hurt a bit.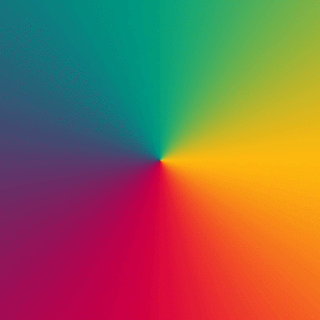 GIF via Pretty Colors/Tumblr