Here at the Daily Dot, we swap GIF images with each other every morning. Now we're looping you in. In the Morning GIF, we feature a popular—or just plain cool—GIF we found on Reddit, Canvas, or elsewhere on the Internet.
It was the third night of South by Southwest Interactive, and downtown Austin was buzzing. Hundreds of people stood in line to get into the Mohawk for Tumblr's official party while the rest of Austin's Sixth Street bar scene overflowed with patrons dressed in tattered Converse sneakers and oversized glasses. 
In a parking lot a few miles away, another party was going on in a cramped RV. It was being hosted by Tumblr's premier artist duo Mr. GIF, and the special guest was Gorburger, a giant extraterrestrial that looks like E.T. after a yearlong bender on Twinkies, cigarettes, and blue hair dye.
Gorburger is the host of The Gorburger Show, an off-the-wall web series where the giant alien, who is voiced by comedian T.J. Miller, interviews the people of Earth. The series was created by Warner Sound and Funny or Die and has featured the likes of Henry Rollins, Tegan and Sara, and 3OH!3.
"That night was super cool. Nothing like partying with a 6 foot tall monster and his two Japanese super kawaii companions," Mr. GIF told the Daily Dot. "Gorbs twisted up something something, then proceeded to pound some brews. The partying got a little too much for Gorbs and he got a little sick."
Mr. GIF commemorated Gorburger's visit with a series of stereoscopic GIFs featuring the alien drinking some Coca-Cola, eating popcorn, and snacking on the corpse of a young SXSW patron. What can you expect from a hungry alien?
"When all was said and done, it was a great way to end our Austin trip," Mr. GIF added. "It's a shame almost immediately after that we reversed into a parked car and totally killed the party vibe."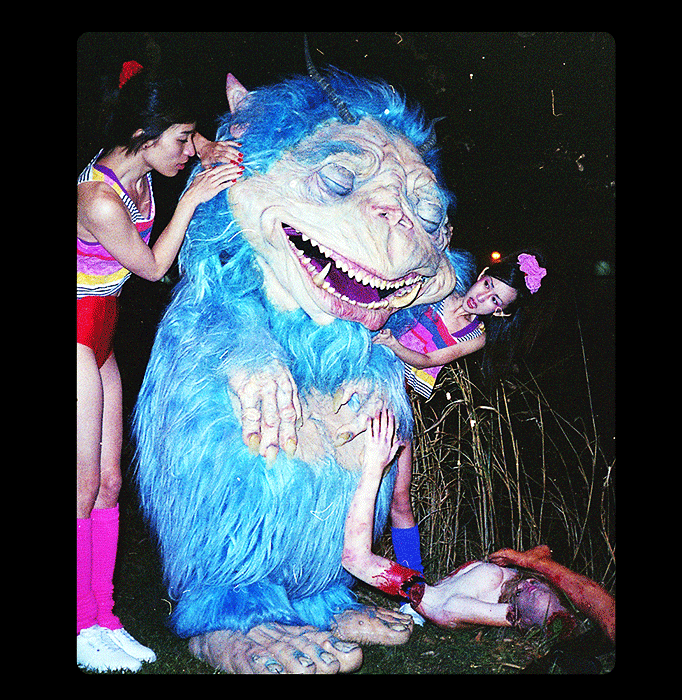 Images by Mr. GIF