Here at the Daily Dot, we swap GIF images with each other every morning. Now we're looping you in. In the Morning GIF, we feature a popular—or just plain cool—GIF we found on Reddit, Canvas, or elsewhere on the Internet.
There's nothing like a little cognitive dissonance first thing in the morning, so here's your daily dose: the famously petite Mini Cooper car as a crossover SUV. They call it the Countryman, and it is to the classic Land Rover as a Jack Russell is to a Lurcher.
Jack Russells, however, are full of surprises. This particular variant can fly; at least, in the hands of professional rally driver, hot dog skier, and apparent deranged maniac Guerlain Chicherit it can. Then again, Jack Russell racing is a thing. Imagine the tiny jockeys.
About the man at the wheel of this diminutive SUV, we can say only one thing: Dude is stone cray.
This jump took place Feb. 19 in Tignes, France. The event was held in France for reasons that will be obvious to anyone who has ever driven there.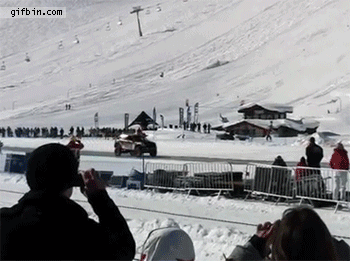 GIF via GifBin