Here at the Daily Dot, we swap GIF images with each other every morning. Now we're looping you in. In the Morning GIF, we feature a popular—or just plain cool—GIF we found on Reddit, Canvas, or elsewhere on the Internet.
GIF artists Colin "zbags" Raff and Milos "sholim" Rajkovic don't know it yet, but they're long-lost brothers from a demented mother.
The duo, who haven't actually met and aren't really related, are Tumblr's premier shock artists. Between Raff's monochromatic animations of smirking scoundrels licking their lips while shoving objects into their head and Rajkovic's faceless figures full of mechanical parts, both men have made it their business to freak you out.
"Models for my GIFs are politicians, corporate people, or just pretty faces from the commercials that we watched for hundreds of times during a day and who have no identity and personality," Rajkovic told the Daily Dot. "So I just remove their faces to have close look at what's inside. In some way I explore and make them uglier to give them some human beauty."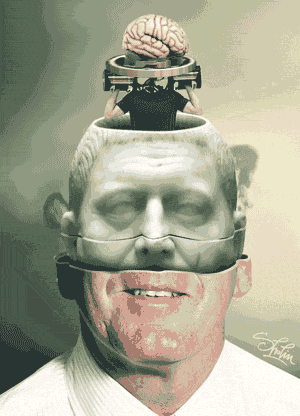 Rajkovic's foray into the world of freaky GIFs is recent. Since April 2 he's posted 10 animations, with each collecting between 100 and 6,000 notes. Not too shabby for a 28-year-old from Belgrade, Serbia, who picked up GIF art in between gigs with his band, the Camaro Kids. 
"I'm highly inspired by lowbrow pop surrealism art," Rajkovic added. "I really feel the power of their work. When you see something that's scary and funny at same time, while bringing some strong visual messages to you—that's what I try to do with my GIFs."
Art by Milos Rajkovic