Here at the Daily Dot, we swap GIF images with each other every morning. Now we're looping you in. In the Morning GIF, we feature a popular—or just plain cool—GIF we found on Reddit, Canvas, or elsewhere on the Internet.
Whether it's a pitch straight down the middle of home plate or nine inches inside, slugger Miguel Cabrera will connect with fury. 
The following composite GIF animation of the MLB's leading hitter shows Cabrera, a third baseman for the Detroit Tigers, crushing six pitches at once from last season.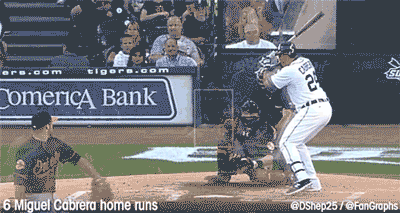 "To my eye Cabrera remains exceptionally controlled, hitting for contact and relying on his strength to drive the ball rather than particularly violent swings or lunges," GIF creator Drew Sheppard wrote on his blog Fangraphs. 
Last season Cabrera, 30, won the MLB's coveted triple crown—leading the league in batting average, RBIs, and home runs. Cabrera has continued his dominance with a .373 batting average and 57 RBIs this season.
Sheppard's GIF is similar to the one he made showing pitcher Yu Darvish's range and speed during a game in April versus the Los Angeles Angels. 
Sheppard's GIF has collected more than 7,300 tweets, 10,000 Facebook shares, and 89 comments praising him for his creativity. It also captured the attention of veteran blogger Jason Kottke. 
"As the image plainly shows, Cabrera can launch home runs from anywhere…even a pitch that's almost a foot off the plate," Kottke wrote. "Are they showing [his] stuff on SportsCenter yet? Can only be a matter of time."
H/T Kottke | GIF by Drew Sheppard | Photo by keithallison