Here at the Daily Dot, we swap GIF images with each other every morning. Now we're looping you in. In the Morning GIF, we feature a popular—or just plain cool—GIF we found on Reddit, Canvas, or elsewhere on the Internet.
The nurse maneuvered the needle into the vein while 26-year-old Tom Loxville looked away briefly. The pinch of the metal was nothing new. The Englishman has been donating blood his entire adult life. Only when he looked down at his arm this time, something had changed. 
As the blood drained from his arm, the red inside four pixelated hearts tattooed on his arm was disappearing slowly like that of a video game character.
This partly fictional scene was created by Reddit user davros_ using a photo Loxville posted Thursday of himself donating blood. The photo was a massive hit on the forum r/pics and ended up inspiring davros_ to create the following GIF animation using Loxville's Legend of Zelda-inspired tattoos.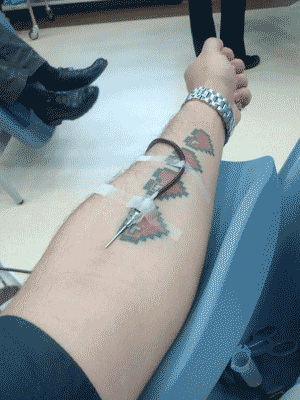 "Zelda was my quintessential childhood game," Loxville told the Daily Dot. "I still like to play A Link to the Past once a year. I got [the tattoo] on my arm because I tend to wear my heart on my sleeve, also three hearts are filled to represent my mom, dad and my sister. The last heart symbolises myself. I like to say that when I get married I'll fill in the other half. "
The Davros_ GIF was also a big hit on r/GIFs subreddit where it collected more than 140 comments.
"This makes me want to have gif tattoos irl [in real life]," rottencandy commented.
GIF by davros_; photo by Tom Loxville