In all our hazy recollections of the Monica Lewinsky scandal and consequent Clinton impeachment, we sometimes forget that a previous affair of Lewinsky's, with her married former high school teacher Andy Bleiler, figured bizarrely in the legal proceedings. Detritus from this other liaison, however, is now being auctioned off online by Nate D. Sanders. 
To answer the obvious question: the "extraordinary" lot does not include Ms. Lewinsky's iconic blue stained dress. Rather it is comprised of items given to Bleiler and his wife in the mid-1990s, including Ms. Lewinsky's own black negligee and a birthday card from President Clinton.
The items, offered up by Bleiler, were at one point considered as potential evidence in Kenneth Starr's investigation, though no one seems to know exactly why. In fact, a good percentage of the lot is made up of clothes Lewinsky gave Blelier's wife when she and the couple were still friendly.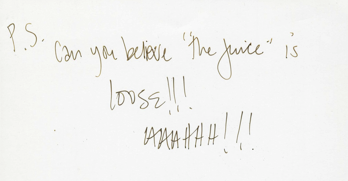 Forget the stationery with an O.J. Simpson joke and size 12 DKNY pants, though—the undisputed gem of this collection is of a far better vintage: "three sealed and slightly crushed boxes of presidential M&Ms." If chocolate is anything like fine wine, that candy should be pretty tasty by now. How did the packaging get slightly crushed? Let's just assume it had something to do with sex.
Photo by Erica Zabowsky/Flickr