On my Pinterest page is a neighborhood of elaborately decorated homes—mostly in California— that surely cost millions of dollars. They overlook humid forests, stands of bamboo, palm trees, and bougainvillea. There are well-manicured gardens with stiff hand-crafted chairs and inviting hammocks waiting for occupants. There is also an arsenal of furniture: an angular Gio Ponti chair, a mirrored Paul Evans cabinet, a Nakashima desk, a Wharton Esherick table that could be the Nakashima's brother, and a pear green velvet Nanna Ditzel sofa. 
The board started out as a way to collect ideas for furnishing my new home, pinning images of the type of furniture I was looking for (but could never afford), color schemes, shapes and styles. The sofa we ended up buying was pear green—though not Danish, and on sale from Macy's. Yet still in another room in my house, in some fictional room in a far-off corner, all these pieces still exist, and somehow still feel like mine.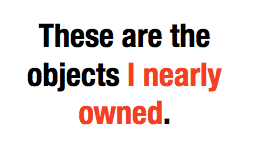 There's a sparsely populated closet of clothes, in that room, too—in another board called "Things To Wear Out Of The House": a purple and pink wool jacket (in questionable taste) from a brief period when I claimed to be "in love with Avoca"; a Uniqlo tunic sweater that was out of stock by the time I discovered it; an airbrushed Mustang t-shirt I thought was awesome. Oh, and also in that room in my house, somewhere? A Brahms Mount linen throw, a collection of rounded wooden spoons, an Edith Heath pitcher, and a dangling trio of Stan Bitters' ceramic birdhouses.
There are also multiple items I've painfully lost in online auctions. These are the objects I nearly owned. I go back repeatedly to visit my lost items one by one. Hello, little owl table stand. Hello, rattan Ficks Reed sofas. You were once going to sit in the corner of my living room; now you sit quietly in this corner of the Internet, where I visit with you in two dimensions. Hello, twenty plastic orange mid-century spatulas that I never needed but still wanted anyway.
I own you now.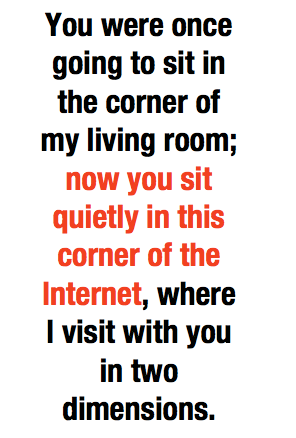 The moment we pin something, it belongs to us. We wear clothes and decorate our homes a certain way not just because we adorn and surround ourselves with the things we love, but also to remind others of who we are and what our aesthetic is. No matter that I'll never really own that Edith Heath pitcher or the Gio Ponti chair. No matter that I'll never actually live in that room in California with the sea blue tiles. It still represents what I want my home to be, what I myself want to be, a collection of items with which I attempt to tell my story. 
This is largely the purpose of Pinterest: to replicate people's desire to collect—be it clothes, hairstyles, images, quotes, food, music, or wallpaper samples—anything that collectively becomes a representation of who we are. Whether or not we ever actually physically encounter these objects is, in some way, utterly irrelevant. These things aren't really ours, and yet they symbolize us, they are us. We feel real connection to and ownership of them, even if only for the moment we look at it there on the screen. 
Artwork, too, is a powerful—and more slippery—element in our cabinets of curiosity. I went through a period where I was fascinated by the art of Eyvind Earle. I searched the Internet for an affordable piece of his art far and wide, with no luck. So instead I began pinning my favorites, one by one. Now I have a little gallery of my own, where Earle's art sits next to pieces by Ed Ruscha, Charley Harper, and a few Mola tapestries I found (but did not buy) on eBay. And here, in this space, I do own these pieces. Here they rest, just where I put them, for whenever I want to dwell on a Ruscha, a Harper, an Earle. Who needs the physical object of the print when I can just step inside my Pinterest gallery for a private viewing?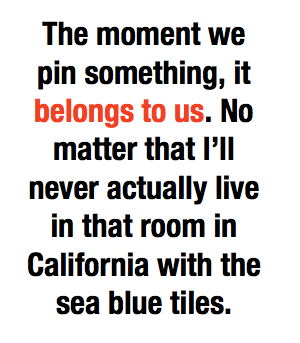 For this very reason, many photographers and artists have used Pinterest's tool for opting out of allowing their images pinned. They understand that whether it's Pinterest, Tumblr, or Facebook, their art will reappear in someone's virtual gallery—and that it's about ownership. By allowing sharing, they are essentially giving a distribution license for their artwork to the entire Internet, so that everyone can own a piece of their art without paying a dime. (Many would also simply call this "exposure," and who's to argue with them if they're happy with that? I have opened myself to a lot of photographic "exposure" myself.)
In much the same way that people go to a museum and photograph the Mona Lisa, or buy the postcard, or a poster, or a bag with Van Gogh's Sunflowers printed on it, this is the closest we non-billionaires will come to owning that masterpiece. What we can't create or buy, we pin or Tumbl—so that we might own.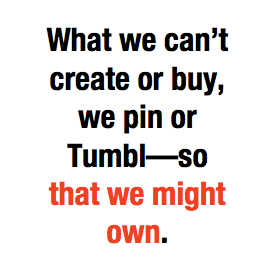 But to look at a piece of art is one thing; what about the feel of a crisp trench coat tied tightly around you? What about the curve of a well-shaped chair arm under your hand? Can online ownership ever replicate the physical experience of owning something material? Perhaps, in reality, we need to own less, not more. Perhaps the physical weight of our material possessions is occasionally too great; owning something virtually is less burdensome, both financially and spatially. 
We are online hoarders of the things we want but will ultimately never really own, curators of Amazon Wish Lists of hopes and dreams, gun-shy about commitment. I'm sure that someone somewhere is using these wish lists properly, saving for later with the actual intent to buy, crossing items off their list upon delivery. But last I checked, my Amazon Wish List contained a Patti Smith book of photographs and some cooktop cleaner—both of which I never bought, neither of which I'm not quite sure I need or want anymore. 
And that's the thing, our desire is momentary, fleeting, and easily sated. Most of the time I no longer desire the things I've bookmarked, the things I've pinned. Release from desire is precisely what these pinboards and wish lists give us. The ability to interact with an item, to feel as if it temporarily belongs to us, to remind us of our personal aesthetic—and then release it into the wild. We can visit these things once in awhile, to remember what we were looking for at that moment in our lives: something we owned once, if only in our hearts. We may give up sitting in that well-designed chair, feeling that trench coat's firm cinch around our waists. But we gain an ephemeral yet powerful signifier of our selves and our desires. In this sphere more than ever, things are not things but gestures—towards who we want to be, and who we see ourselves as. 
Zan McQuade is a writer, editor, photographer, translator, and baseball enthusiast living in Cincinnati, Ohio. Her words and images can be found at www.thatcupoftea.com.
Photo by /kallu/Flickr