You're seeing this correctly. Mark Zuckerberg, the creator of Facebook and most famous Web innovator since Al Gore, once had an Angelfire. Just like you and your sister and all of your little teenaged friends.
(Well, probably that Mark Zuckerberg. It could be another Mark Zuckerberg from Westchester, New York, born in 1984, with an early flair for programming.)
Thanks to the vigilantes at Hacker News, the world can now once again be privy to the wonders that are a future tech legend's most primitive Web developments, an Angelfire site reiterating to the world just how geeky Mark Zuckerberg actually was. 
"Hi, my name is… Slim Shady," the site's About Me page reads. "No, really, my name is Slim Shady."
Wait, Slim Shady? Eminem? Mark, please tell me you're joking.
Just kidding, my name is Mark Zuckerberg (for those of you that don't know me) and I live in a small town near the massive city of New York. I am currently 15 years old and I just finished my freshman year in high school. I have remodeled this website in an attempt that perhaps some search engine will recognize it. I am trying o promote my new AOL Program, The Vader Fader, which you can download elsewhere on this site.
Hey Mark, not sure that Vader Fader "program" worked out so well. Might want to try another site—one that, you know, focuses on chairs and making the world a more open place. 
In actuality, this Angelfire site may have already been a precursor to the Facebook beast he launched from his Harvard dorm room in 2004. He writes in a section called The Web that he envisions a world in which people can actually make friends and contact each other and do all sorts of other things—like poke strangers and scroll through endless streams of cute girls' photos. 
"As of now the web is pretty small," he writes. "Hopefully, it will grow into a larger web.
"If your name is already on The Web because someone else has chosen to be linked to you, then you may choose two additional people to be linked with. Otherwise, if you see someone who you know and would like to be linked with but your name is not already on The Web, then you can contact me and I will link that person to you and put you on The Web. If you do not know anyone on The Web, contact me anyway and I will put you on it."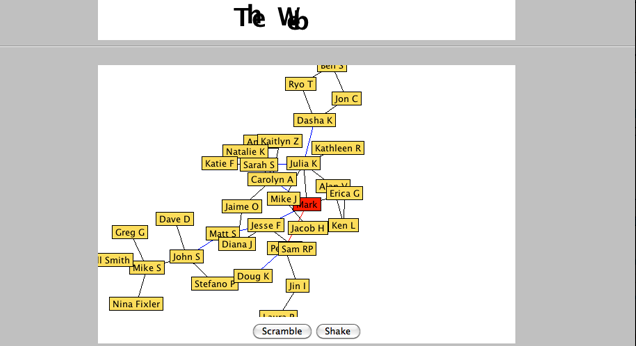 Sounds like Facebook, save for that part about Zuckerberg actually responding to emails. 
Other fun components of this primitive website include The Pong Game (now defunct), a bit about Magnetic Poetry, and an "informal page" called The Best, in which Zuck riffs on his favorite things in the world. 
Among them, Quesadillas and telling people to "Suck it!" Love that about you, Zuck. Love your Angelfire page. YOU'RE the best, buddy. You are.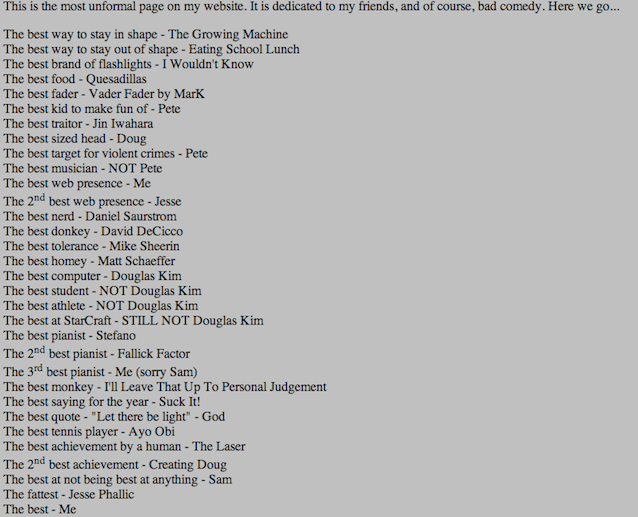 Photo via Mark Zuckerberg/Facebook