As much as you may wish he'd Mackle less, rapper Macklemore is a pretty good sport. He rejected his old signature haircut on Tuesday after a well-known Twitter prankster pointed out it's been widely adopted by white supremacists.
"macklemore hair seems to be the chosen haircut of the racists now. i call on @macklemore to get online and denounce his own haircut," tweeted internet jokester Jon "@fart" Hendren, known for pranks like sending Pitbull to a Walmart in Alaska and going on TV to discuss Edward Scissorhands instead of Edward Snowden.
The call for a man to denounce his own hair was a little tongue-in-cheek, because Macklemore is an outspoken liberal and a supporter of Black Lives Matter, hardly a Nazi sympathizer. He certainly didn't inspire the "fashy" haircut neo-Nazis and alt-righters like Richard Spencer wear today—it was popular with the Nazi youth of the 1930s and '40s—but it's hard to ignore the similarities between their hairstyles and Mack's old 'do.
Macklemore's hair style resembles a popular nazi haircut. Google images it, I'm not kidding.

— Reid (@Reidiculouz) March 22, 2013
#questionoftheday When will the Nazi youth hair style trend finally die? #macklemore #Williamsburg

— C. J. Timmins (@c_j_timmins) June 19, 2014
"Macklemore Hair" became "Nazi Hair" quicker than the "Chaplin Stache" became the "Nazi Stache".

— Sam (@unegrandefemme) February 26, 2017
When people try to call Richard Spencer dapper remember that he's a Nazi who looks like an inbred bloated seal carcass with Macklemore hair.

— Birdy (@palebirdy) January 29, 2017
Is it safe to assume that anyone who still has this hair is either a Nazi or has an unhealthy fixation on Macklemore? pic.twitter.com/cOll8zljbq

— Samay Gheewala (@STGhee) April 26, 2017
When you realize your hair is making you a Nazi style icon, the thing to do is give it up. And, to his credit, that's exactly what Macklemore did. He now sports a more nondescript buzz cut.
Got rid of it over a year ago

— IT'S CHRISTMAS TIME (@macklemore) August 15, 2017
He didn't exactly "denounce" his old hair, but he distanced himself from it. For Weird Twitter, that was a win. They got a celebrity who many see as a joke to take a silly tweet seriously, and they got to mock Nazis at the same time. Dozens of "thank you, Macklemore" tweets (and one "thanklemore mack you") were immediately posted.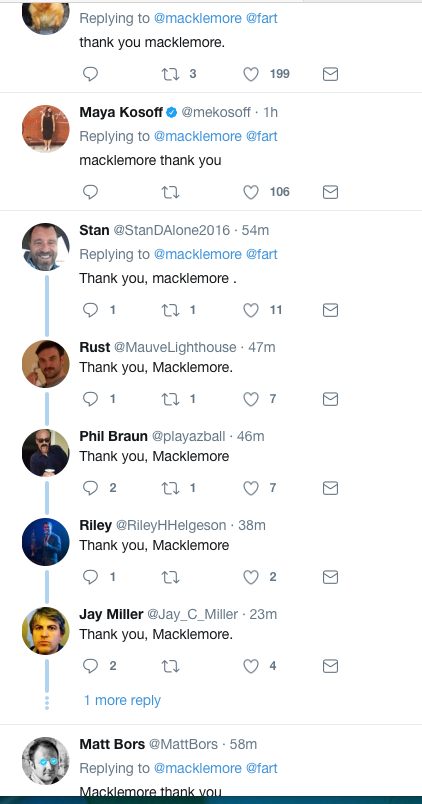 Thanklemore mack you

— Nick (@NickSchug) August 15, 2017
He mackled less, for our sake

— Bernie Sanders 2020 (@hamsandcastle) August 15, 2017
Thank you, Macklemore.