Earlier this week, Londoners noticed a mysterious aircraft circling over the city. A UFO? Well, kind of.
The plane circled the city for several hours on Tuesday morning, with a flight path that can easily be traced using the aircraft tracking website flightradar24.
Many suspect that the plane, identified by ITV News as a twin-engine Cessna aircraft with no public call sign, is a police spyplane used to eavesdrop on cellphone calls.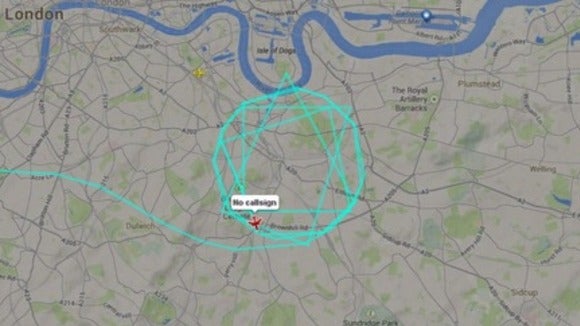 Image via flightradar24, by ITV
This idea may sound like a UFO conspiracy theory, but London's Metropolitan Police has already exacerbated the issue by refusing to acknowledge or comment on the growing worries that planes are being used to spy on London citizens. The Cessna's lack of call sign only adds to the suspicious nature of its flight pattern, since an unidentified aircraft of this type would surely have been reported as a threat if it was not already known to the authorities.
Worse still is the fact that this type of aircraft has been linked to the Metropolitan Police in the past, reportedly fitted out with surveillance equipment. When asked to comment on the spyplanes earlier this year, Mayor Boris Johnson said, "For operational security reasons, it is not appropriate for MOPAC [Mayor's Office for Policing and Crime] to respond."
This particular plane, along with a similar Cessna aircraft, has long been the target of planespotters in England. But without further sightings, it's difficult to discern whether this is a matter for the paranoid tinfoil hat-wearers of the world, or another worrying example of the U.K.'s growing surveillance state.
Screenshot via YouTube