The 4chan user who livestreamed his attempted suicide has been identified. The man is Dakota Moore, 21, a student at the University of Guelph in Ontario, Canada.
On Saturday, Moore tried to take his own life by swallowing a combination of vodka and pills and setting his dorm room on fire. The event was captured on camera and broadcast on the site Chateen, where 200 people from 4chan's /b/ forum tuned in. Instead of trying to talk Moore down, /b/ egged him on.
In a grainy video of the incident, still available on LiveLeak (NSFW), Moore's fourth-floor room at the Dundas Hall fills with smoke..
"#imdead #omgimonfire," he typed from under the bed. "I'm fuck3d."
Near the end, firefighters can be seen in the room.
Moore, whom /b/ has dubbed "Toaster Steve," is currently recovering at an Ontario hospital with his mother by his side.
Instead of people wishing him well on Facebook, photos on his profile have been inundated with comments discussing the alleged motives behind his suicide attempt. Other trolls have transformed Moore's likeness, and his /b/ nickname, into image macros.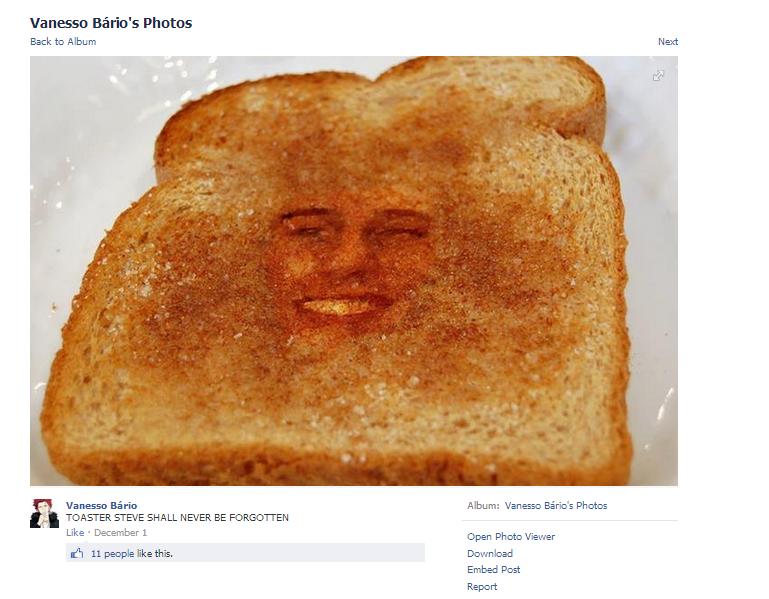 Moore's friends have tried to come to his defense.
"Did any of you eggheads cheering him on think to help him and say stop?" Cheyenne Vivian commented on Facebook. "I don't want to hear your stupid excuses as to how you could possibly even be a little human and comments I'm done with this thread. I hope you all can sleep well at night knowing how pathetic you all are and what you have done."
Photo via Facebook