Nickelodeon is releasing the final five episodes of Legend of Korra digitally online after it quietly removed them from its schedule.
Legend of Korra's otherwise excellent third season has been disastrous from the start. First, the network debuted the trailer and pushed the release date up weeks (possibly even months) after four of the episodes leaked online while they were sent out for dubbing.
The season premiere had record-low ratings, and those didn't improve with new episodes, even though Nickelodeon started scheduling an hour-long block for the show without notifying fans. With a lack of advertising overall from the network—as well as refusing to put episodes online until weeks later—many Legend of Korra fans watched the show illegally online, and some didn't even know that the show had come back until checking places like Reddit. And it's a show that's struggled ever since it was moved from Saturday mornings to Friday nights.
Nickelodeon's decision to pull the episodes spread a panic amongst its fans, with many worrying that the show had been cancelled. Others were concerned about what that meant for the show's fourth season, which had already been ordered back in 2012 and was in the midst of production.
Legend of Korra co-creators Michael Dante DiMartino and Bryan Konietzko were still learning new details and tried to calm fans down. The main thing, they assured fans, was that Legend of Korra was not cancelled and they promised new details at Comic-Con.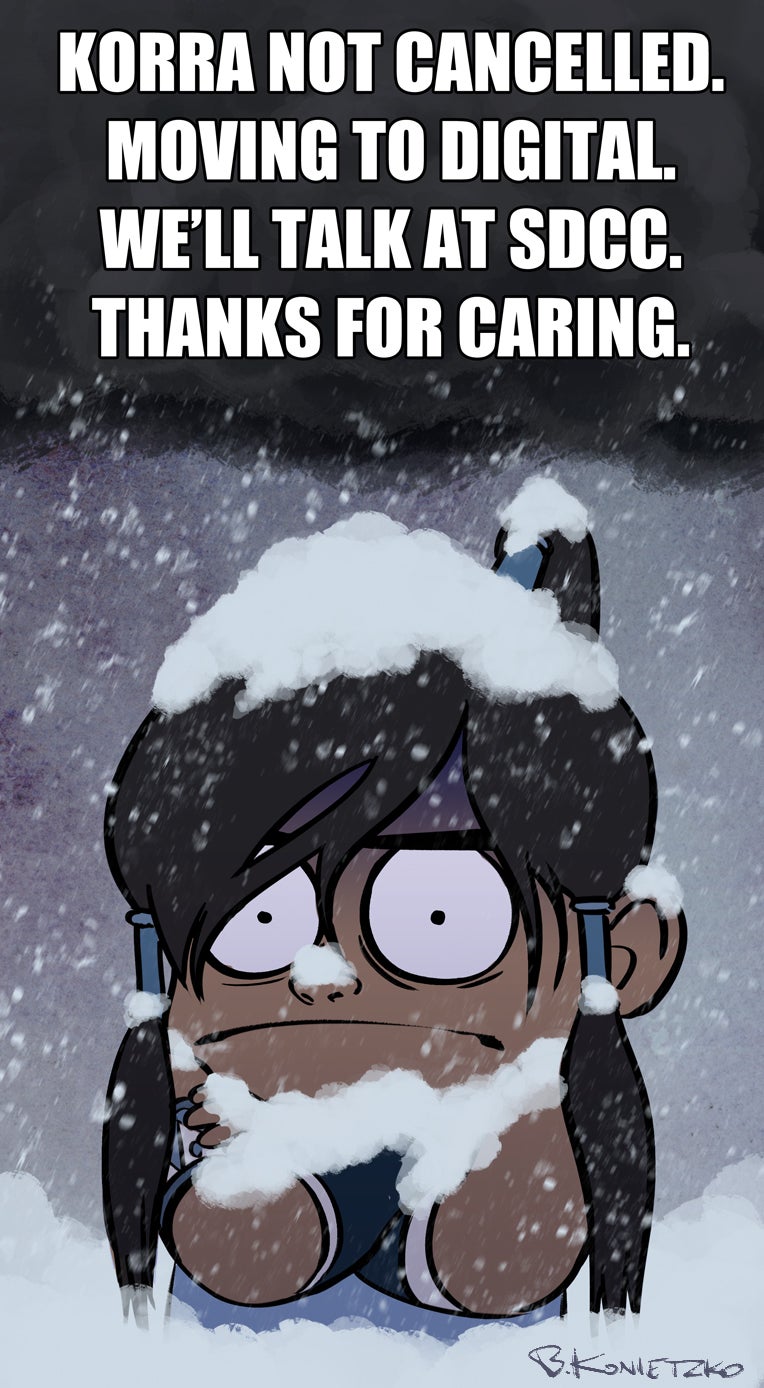 Photo via bryankonietzko/Tumblr
As it turns out, fans got an update sooner than they expected. Nickelodeon, wanting to clear the air about any Korra news, took to Tumblr to elaborate what it meant by a "digital rollout."
"That means two things: 1) Korra is NOT cancelled, 2) the remaining episodes will roll out weekly on Nick.com and the Nick app beginning Aug. 1, as well as on platforms like Amazon, Google Play, Xbox and Hulu," the update read. "Thousands of you have been asking to watch this incredible show online, so hopefully this news works in your favor."
There's no word yet on what Nickelodeon's planning to do about the fourth season.
The decision to put the episodes online was partly due to the thousands of fans who've asked Nickelodeon to put the show online, but it comes at a cost. It's too little too late for the struggling show, and it alienates a new potential audience. Moving the episodes online could also be a good move for a show that, until now, hasn't received all that much love from its network.
Screengrab via Nickelodeon/YouTube