Ladies, imagine this. It's 15 years from now. Your son is up to bat, your husband is the hot third base coach, your little girl is cheering on her big brother at the fence, and you are team mom—taking pictures with a fancy camera, and keeping the scorebook.
Does that sound like an idyllic life? Yes? No? Maybe? Well, it's the one imagined by University of Louisiana Kappa Delta sorority sister Mallori Taylor in a tweet earlier this week, who all-caps proclaimed that it would be living her BEST life.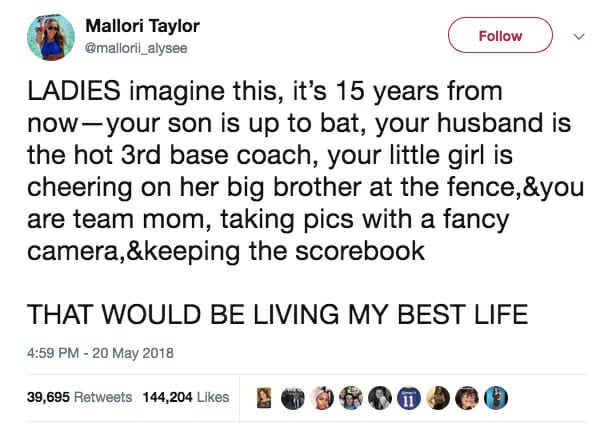 It will probably come to the surprise of no one that Mallori also tweeted a whole bunch about the royal wedding.
Mallori's tweet went viral, retweeted and liked by tens of thousands of other young women, but not everyone was so impressed, as evidenced by the top comment on the tweet. "I would actually die if my life came down to this," the person said.
i would actually want to die if my life came down to this.

— Rileylu (@langeriley99) May 21, 2018
The tweet really went viral however, when it was retweeted by @kbnoswag, who pointed out what a bizarre trend these types of tweets are setting by fantasizing of an actually pretty mediocre-sounding life.
College girls on twitter aggressively fantasizing about being 40 year old moms who do regular activities with their fictional families is one of the most bizarre social media trends https://t.co/QP6VtpnzPk

— KB (@kbnoswag) May 21, 2018
And from there, others jumped in and began mocking Mallori's tweet, and it wasn't long before it became a full-blown meme—at least one going even more viral than the tweet that inspired it.
LADIES imagine this,

It's 20 years from now. Your daughter is about to get married. You don't have a husband but three men that might be her father show up on your Greek island. It's chaos. Pierce Brosnan is singing. It's Mamma Mia

— quarantine qt (@jennalinds) May 23, 2018
Many of the memes brutally roasted Mallori's dream.
LADIES imagine this- 15 yrs from now you come home from your dream job bc you had ambition. You have a healthy loving marriage with someone who isn't named Chad or trying to relive his subpar glory days as a coach & your kids aren't entitled brats

NOW THAT IS LIVING MY BEST LIFE

— Yumna Khan (@yumna_khan1) May 22, 2018
https://twitter.com/BaileyMoon15/status/998916307004338177
https://twitter.com/pamelaeus/status/999099136937873408
https://twitter.com/lildokigirl/status/998652869699137536
LADIES, imagine this

Its 15 years from now, you're recently divorced after your college sweetheart Chad from sigma chi cheated on you with his coworker. You have a "can I speak to the manager" haircut. You're alone at an Applebees bar drinking a miller lite. It's Christmas Day.

— Bern Mustian (@BernMustian) May 22, 2018
While others loosely described the plots of movies:
LADIES IMAGINE THIS!

you have a 39 y/o son brennan who still lives at home. you fall in love with a man at a medical conference who has a 40 y/o son dale who still lives at home. you get married. then divorced. you attend the catalina wine mixer. prestige worldwide is a success.

— sara!! (@itssaranielsen) May 24, 2018
LADIES IMAGINE THIS – Your husband is the strongest man in the world and you have 3 children. One is the fastest kid on planet while the other can turn invisible. Your newborn's power is yet to be discovered and you have a family friend who doesn't know where his super suit is

— Kyle Cachero (@URBNmusic) May 24, 2018
A few actually went back in time.
LADIES imagine this— it's 1692. Your husband is building a house with sod and rocks. Your 6 sons are outside playing with their stick and hoop. You are hanging laundry and hoping the townsfolk don't discover you're a witch. Life is perfect. ❤️

— Rebecca Taylor (@BecTaylor13) May 22, 2018
ladies, imagine this. it's 1693. the townspeople caught you kissing your neighbor Zachariah's wife so they all think you're a witch. you'll be dead by tomorrow but for now you're kinda just loving the attention

— ASYA (@communistbabe) May 23, 2018
And then people just got weird with it.
https://twitter.com/SketchesbyBoze/status/999374423751823367
LADIES imagine this: it's 1830 and you're on the Oregon trail. Your husband died of dysentery 500 miles into your 2,170 mile trek, 5 of your 11 kids were abducted by bandits in Missouri, and you had to trade the remaining 6 for food and oxen. Life is PERFECT.

— Brad Payne (@bradinho__) May 23, 2018
LADIES, Imagine this: the year is 2038, you're at your sons baseball game and he is up to bat. it begins to rain and your robot husband begins to short circuit. he shoots missles from his fingertips and destroys everything in a ten mile radius. there are no survivors.

— bernie sanders paypig (@baileycfox) May 23, 2018
LADIES!

Imagine this. 15 Year's from now. You're lying in a field of ur very own grown marijuana. The sun is shining, you're smoking a blunt while ur significant other is sucking on your titty. U order Chinese. Ur cream cheese wontons have just arrived. Ur living the dream.

— Lucero Godina (@lucerogodina) May 22, 2018
While it's certainly anyone's prerogative to imagine a blissful life down the road, it's also good to remember that life comes at you fast, and setting the bar too high may only lead to future disappointment. Or, you know, your husband banging Shelby from Sam's Club.