More celebrities are coming down with the coronavirus.
Last week it was Tom Hanks and Rita Wilson. Yesterday we received news that Idris Elba, too, had tested positive. The virus' latest famous victim is Kristofer Hivju, the actor who portrayed Tormund Giantsbane in HBO's Game of Thrones. The 41-year-old actor announced Monday that he tested positive for the rapidly spreading COVID-19 virus.
Hivju announced his diagnosis via Instagram. "Greetings from Norway," he wrote to his nearly 4 million followers on the platform. "Sorry to say that I, today, have tested positive for COVID19, Corona virus. My family and I are self-isolating at home for as long as it takes."
Thankfully, according to the post, Hivju and his family are still in good health. He wrote that his symptoms are "mild," but he warned readers about those in high-risk groups. "There are people at higher risk for who this virus might be a devastating diagnosis, so I urge all of you to be extremely careful," Hivju wrote. "Wash your hands, keep 1,5 meters distance from others, go in quarantine; just do everything you can to stop the virus from spreading."
At the conclusion of his post, Hivju urged people to stick together—not physically, of course—and follow regulations. "Together we can fight this virus and avert a crisis at our hospitals," he wrote. "Please take care of each other, keep your distance, and stay healthy! Please visit your country's Center for Disease Control's website, and follow the regulations for staying safe and protecting not just yourselves, but our entire community, and especially those at risk like the elderly and people with pre-existing conditions."
In no time, the comments section for the post was inundated with well-wishes from fans and friends. A number of his former Game of Thrones co-stars sent him their best, including Nathalie Emmanuel, who played Missandei, and John Bradley, who played Samwell Tarly.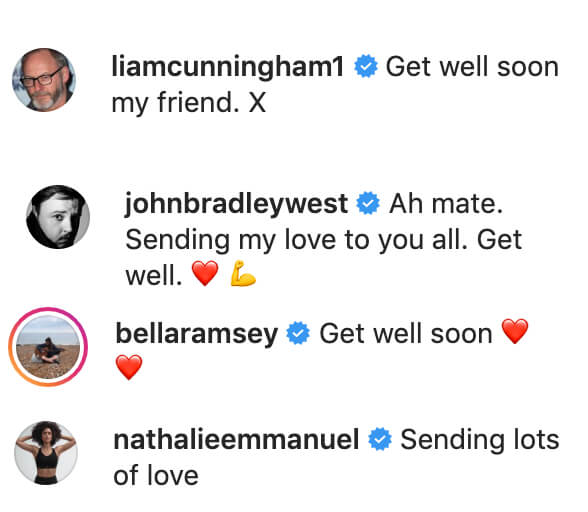 Many offered their best wishes in Norwegian, Hivju's native language. The term "god bedring," which translates to "get well soon," was a common sentiment.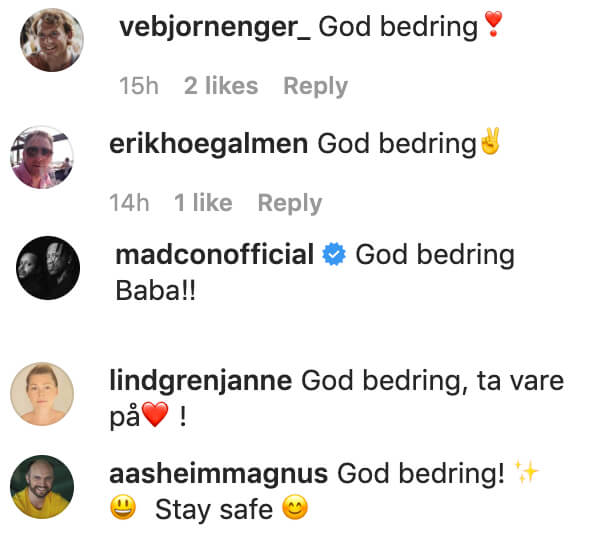 Everyone else busied themselves making every Game of Thrones reference they could think of. "My dude survived having his girl stolen by Jaime Lannister," one commenter wrote. "He's been through worse. You got this."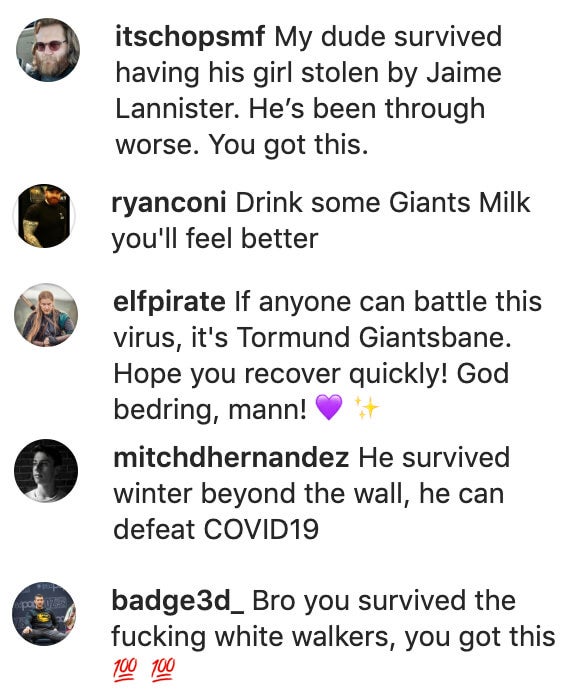 Hivju recently joined the cast of Netflix's The Witcher, which was forced to shut down production for at least two weeks following his diagnosis. The set, at Arborfield Studios, will be thoroughly cleaned before the series' cast and crew return.
"We paused production prior to becoming aware of this, but as a further precaution we will be closing production offices and Arborfield immediately and arranging for deep cleaning and disinfection," Netflix said in an emailed statement. The streaming service also advised cast and crew members to self-quarantine for 14 days, keep an eye on their temperature and seek medical advice if any symptoms crop up, according to the Daily Mail.
READ MORE:
H/T Daily Mail