Actress Kristen Bell has taken a page out of Samuel L. Jackson's Web playbook and, for charity, submitted herself to the mercy of Reddit's boundless weirdness.
Since 3:30pm, Bell has been playing a game of Would You Rather on Reddit's r/self community as part of a contest to raise money for Invisible Children, an organization dedicated to bringing Africa's Lord's Resistance Army and its leader, Joseph Kony, to justice for human rights offenses.
"I have been to Central and East Africa numerous times to see first-hand the amazing work that Invisible Children does on the ground," Bell wrote. "I've supported this organization from the beginning and have met and become friends with the people that Invisible Children's work has impacted."
So far Bell has answered more than two dozen questions touching on her upcoming Kickstarter-powered revival of Veronica Mars to whether she'd rather "rather walk in on Dax [Bell's boyfriend] taking a shit, or have him walk in on you taking a shit?" Bell will select the best response and take that lucky redditor on a "totally platonic" date. Anyone else who donates $50 to Invisible Children will win a Bell-designed T-shirt.
Bell's Reddit post comes two months after Samuel L. Jackson held a similar contest to raise money for the Alzheimer's Association. Instead of playing a question-and-answer game, Jackson asked the community to give him its best original dialogue  to read out loud, which, naturally, resulted in a bunch of tomfoolery from 4chan's random imageboard /b/.
Here are some of Bell's best answers so far.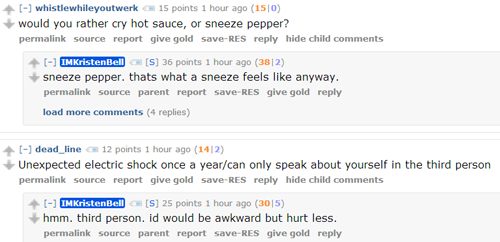 Photo by Gage Skidmore/Flickr