Dear Instagram, I've missed you.
And I don't say that lightly. After all, it's been seven weeks. Yes, really. I just checked.
I'm sorry for that. I was mad at you. Can you blame me? Sure, the kerfuffle's over, but I'm still hurt. Offended. Of course I am. I mean, first off, not long after you hooked up with Facebook, you went and changed your terms of service, suggesting that you would use our precious photos in Facebook's semi-skanky ads. Without our permission. Oh, the violation.
Sure, I've seen Facebook violate users' privacy again and again, and again and again, then backtrack and apologize. I constantly feel like I'm dealing with a toddler testing my limits.
I didn't expect that from you, Instagram. You disappointed me.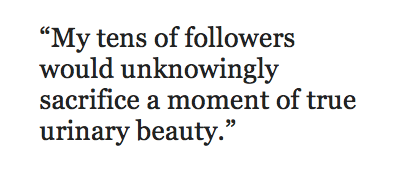 But then, Instagram, you took it back. You issued an apology and, after an uproar, generally said you didn't want to own our photos (and ps, as if the photos of our potatoes au gratin are so amazing they belong in ads). It's amazing what a little bad publicity will do. But still, there I was, feeling a little—well—betrayed. OK? I was wounded.
Because it was personal.
So I did what anyone would do it my position—anyone with any self-respect, anyhow. I broke up with you. I didn't plan it or anything. You never know it'll be the last photo when you're posting it. One day, I had just had enough. So I stopped. I just realized one morning that I couldn't look at you anymore. I didn't want to click on your, or even think about you, frankly. That's how hurt I was.

That one morning turned into another and another and another. Weeks went by and there would be days when I wouldn't remember you. Then I'd see a doll laying on the street and momentarily, my thoughts would flash to you. I'd think of a clever hashtag. But no, I just wasn't ready.  
When my dog would pee in a particularly clever pattern, I wouldn't snap, filter and post, praising Tazzy for a beautiful stream. I'd look, imagine the post, the color saturation, the filters I'd use, and walk away,  dejected, defeated, lonely. My tens of followers would unknowingly sacrifice a moment of true urinary beauty.  
Today, I saw something while driving. The guy driving ahead of me, a motorcycle with not one, but two, and then imagine—a third!—GoPro mounted to his cycle. My eye twitched—Instagram? Then: No, be strong. I can live without you.
He had gray hair. He was with a gang of people who looked to be mostly over 60, all riding very expensive bikes.
It was too much. Too much visual. Too much story to tell. Too much irony. 

So I caved. I snapped the photo, I snapped several photos, if you must know. And then, I sifted through and chose. That one. That was all it took. I was hooked again. I could feel the adrenalin rush: soon there would be a filter. Then there would be a clever message. And then a hashtag, no two hashtags! And a post. There would be likes. And hearts. Oh, how I'd missed those hearts.
I hit publish. Like a runaway welcomed home into her mother's arms, I felt instantly warm, instantly loved.
Oh Instagram, how you toy with my emotions.
Within a minute, I needed another fix. I was already on the road, and there they were: a field of deer, lying placidly by the side. I thought, OMG, can we turn around? I need to share this with the world. My partner shrugged and said, "Oh, yeah, I saw."
She saw it. But the world missed it.
So I guess I admit it, dear Instagram. There's no denying it any longer. I need you. Please try to be delicate. Don't hurt me again. I'm fragile.
If you want to view any other of Janet Kornblum's works of arts on Instagram, go to jkornblum and follow her. She'll probably follow you back. Unless she's mad at Instagram again. 
Photo by Janet Kornblum, of course