To say that Japan and South Korea have a fraught history is an understatement, but the two nations have, for the most part, enjoyed a tense but productive relationship in recent decades. Still, outrage surrounding the portrayal of Korean rapper Psy as a vicious rapist in a recent Japanese parody fan comic make it clear that some Japanese fans have more issues with the Korean Wave than mere unwillingness to do the horse dance.
Japanese pop culture gossip blog Aramatheydidnt is reporting that Korean netizens are outraged over a fan comic called Samuge-sō no Kimchi na Kanojo, which, while it seems to be skewering intense Japanese nationalism, also lambastes Korean culture, turning Psy into a thug and gang rapist who announces "Gangnam Style!" as he kicks another character in the groin.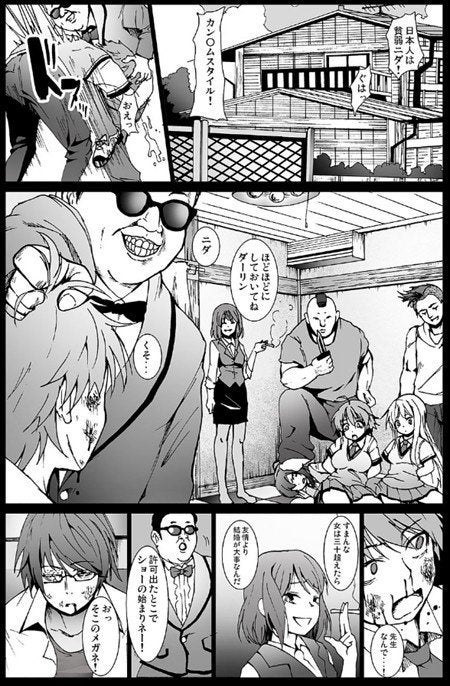 Illustration via Aramatheydidnt/LiveJournal
Hallyu, the Korean Wave that has seen Korean culture and particularly Korean pop music (aka K-pop) skyrocket in popularity all over the world, hit Japan earlier than anywhere else: Legendary Korean hip-hop vocalist BoA broke records in Japan for her success there in 2005, paving the way for other K-pop sensations to make inroads on Japan's Oricon charts, like Super Junior, DBSK, and Girls' Generation.
So it stands to reason that by 2013, when the rest of the world is just getting around to discovering Korean music, some oversaturated Japanese listeners might be less than eager to jump on the "Gangnam Style" bandwagon. But just as Psy's mega-phenomenon has finally hit No. 1 with Japanese YouTube viewers, the rapper himself has unwittingly become the center of an unusual controversy that pits Japanese and Korean cultures against each other and brings out a nastier facet of a core part of Japanese culture: the often-explicit and offensive content of Japanese fan comics, or dōjinshi.
Dōjinshi are notorious for their unbridled content, which has been found to violate obscenity laws in Canada, Australia, and other countries. Often erotic, the comics are typically done as fanart/fan comics of professional Japanese anime or manga; because of their huge popularity in Japan and the usual value boost they give to the original story, professional creators usually look the other way, allowing dōjinshi to be sold by the thousands in comics stores, online, and at huge annual dōjinshi conventions.
This particular dōjinshi is parodying an anime called Sakura-sō no Pet na Kanojo (The Pet of Sakura Dormitory), about a charming yet hopeless manga artist who can barely tie her own shoes. The erotic comic parodies not only the anime, currently airing in Japan, but also its fans.   Last month they erupted in rage when a character cooked a Korean dish instead of a Japanese dish. The offense was enough that nearly 200 people left 1-star reviews for the series on Amazon.
The dōjinshi's response to the fan reaction seemed to be to utilize the ubiquitous popularity of Psy as an answer to the Japanese fans' distaste of Korean culture. But given that it also portrayed its caricature of Psy as a member of a gang who forcefeeds a class of Japanese school girls Korean kimchi before raping them, it's hard to say which country is the real brunt of the joke.
Dōjinshi frequently parodies real people and even more frequently utilizes rape as an erotic narrative. But tensions between Korea and Japan are still brittle after disputes over Dokdo/Takeshima Islands intensified in August. One Korean Internet cafe reportedly hung a "No Japs Allowed!" sign and refused to allow Japanese computer users entry unless they yelled "Dokdo Islands are Korean Territory!" three times. 
While the dōjinshi probably would have faded into obscurity without comment had it not been found by Korean media, the responding outrage from Korean netizens has highlighted the way the two countries export cultural products to each other: Japanese manga and anime frequently features Korean settings and characters, while K-pop, K-drama, and manhua (Korean comics) have all increased in popularity in Japan. They've also increased in international popularity, in part due to their Japanese counterparts all becoming popular first.
Now, with the increased attention to Korean culture around the world, Japan might be having its own moment of resentment at Korea's success in creating a global pop sensation.
Time for "Shibuya Style," perhaps?
Photo via Rocket News 24