The Koch brothers want your social media information, and they're using food trucks to get it.
It's no secret that billionaire siblings David H. and Charles G. Koch have used their vast wealth to support conservative and libertarian organizations, ones that also happen to benefit their business interests. According to the New York Times, Americans for Prosperity, an advocacy group backed by the Kochs, is "spending more than $1 million on an advertising campaign to (yet again) discredit President Obama's health care reform law."
Another benefactor is Generation Opportunity, a group whose stated mission is to "[fight] for economic opportunity for young people through less government and more freedom." Because their target demographic is millennials, the organization has focused its efforts primarily on Facebook.
Generation Opportunity's own Facebook profile has a paltry 1,063 likes. The group has found success, however, by creating multiple pages that extol vague notions that just about everyone, regardless of their political views, can support: Being American, The Constitution, and Gas Prices Are Too Damn High, just to name a few. Collectively, these pages have amassed more than 4 million likes.
The organization has wasted no time in pushing their own political agenda. Borrowing a page from the Mitch McConnell playbook, Generation Opportunity frequently bombards its audience with anti-government messages in the form of macro images.
Take the following image, which co-opts the popular Scumbag Steve meme.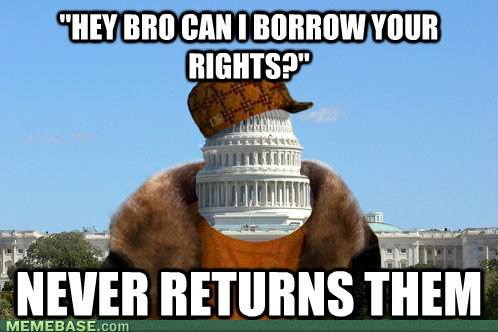 The picture has been shared more than 1,000 times since it was first posted to "Being American" on Friday.
But 4 millions of fans isn't enough. Generation Opportunity wants to expand its already massive audience, and they're doing it by championing something else millennials love: food trucks.
The organization recently launched a petition called Free The Food Trucks! According to the site, these popular restaurants-on-wheels are in danger and they need your help.
"Big business sees competition as the enemy, and their lobbyists have launched an aggressive effort to push regulations that will cripple or even stop the food truck business," the petition page claims.
"By signing this petition you are adding your support to millions of young people who say YES: I support food trucks and a free economy!"
For anyone who lives in an urban area and is a fan of delicious food, this seems like a worthwhile cause to take up. Too bad it's a hollow one.
For starters, Generation Opportunity doesn't provide actual examples of the food industry being in danger. They also don't disclose who the petition is being directed to.
What it does do—should you choose to sign it—is give Generation Opportunity access to a slew of your personal information, including your Facebook public profile, friend's list, email address, and your friends' birthdays, current cities, and likes. That's a lot to give up just for making a slacktivist declaration that won't result in anything.
This strategy, aside from being equal parts nefarious and brilliant, is yet another example how social networks and the Internet are very much shaping the political landscape. Obama may have won the "meme election," but Republicans are coming hard after your Facebook likes.
H/T Death and Taxes | Photo via Mr. T in DC/Flickr