If you've contracted a horrible case of Dysentery or Cholera in the past 24 hours, you can blame it on Kim Kardashian. Yes, it seems the folks at the Environmental Protection Agency have had more pressing matters than potable water, namely climbing their way to the top of A-list in Kim Kardashian: Hollywood, the addicting app that's poised to clear an estimated $200 million in in-game purchases by the end of this year. 
Tuesday night, the verified account of the U.S. EPA's Office of Water dispatched the following tweet, revealing that not only are they preoccupied mindlessly tapping their screen as Kim Kardashian cooes to them, but they're embarrassingly only a C-list celebrity. (The tweet has since been deleted but copies can be found on Topsy.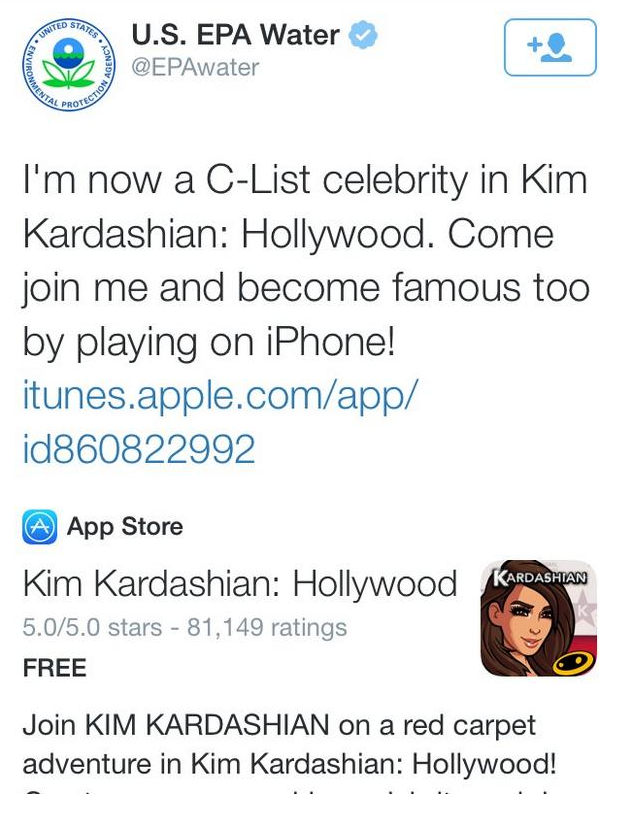 The tweet is one the game prompts you to send to your followers every time you rise ranks in the game's celebrity world, which means the EPA's social media director has definitely been slacking.
But more importantly, are we really comfortable having the safety of our nation's water supply resting in the under qualified hands of a C-list celebrity? How many taxpayer dollars have been spent buying cash and K-Stars to level up more quickly? How attractive is the EPA's avatar? 
Thankfully, you don't have to suffer through the embarrassment of being a C-list celeb thanks to our guide to hacking Kim Kardashian: Hollywood.
Photo via gohe007/Wikimedia Commons