Missouri-based artist Holly Stewart was looking to showcase her unique crafts at an upcoming art exhibition, so she turned to Kickstarter to raise $250 to print out flyers for the show.
This isn't very notable in itself. But it just so happens that her artwork is giant polyester penises.
On Kickstarter, she wrote:
"The Invitation/Brochure/Poster is a two page folded document and not only does it stand as a promotion for the show, but it's a designed work of art in itself, a collaboration of Holly Stewart's pieces and Jeremy Todd's design work. If we can't raise the funds to have it printed then we risk not having a promotional piece."
Fourteen backers raised more than $300 for Stewart; at an average gift of $22 per backer, it was proof positive that the size of the donation didn't matter. Rewards included everything from "sequined semen" (which the crafts are stuffed with) to an actual polyester penis of their own.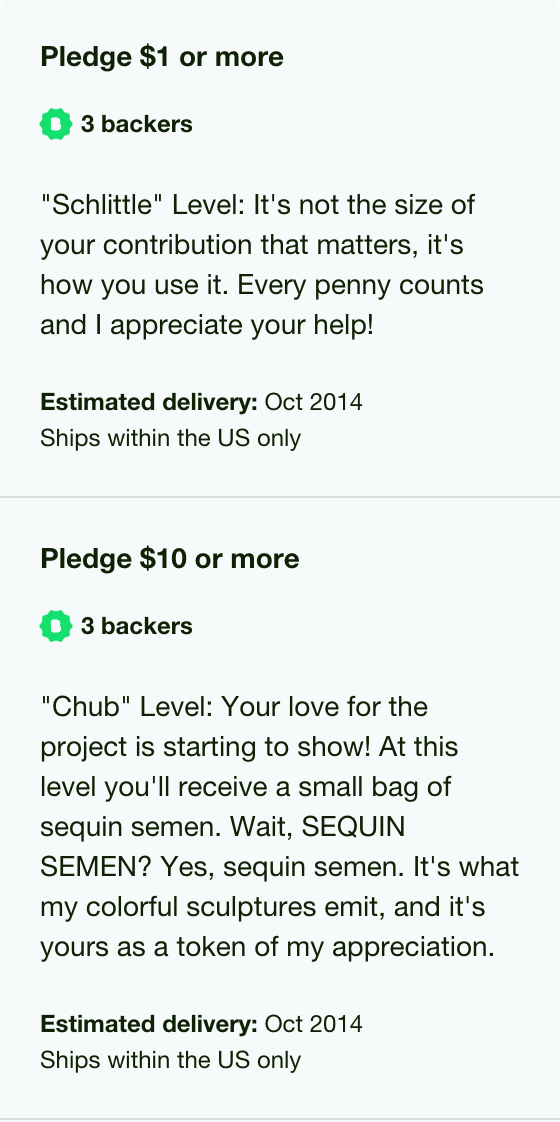 If Stewart's tale can teach us anything, it is that raising small amounts of money on Kickstarter is not that hard and can result in a very happy ending.
Screengrab via HollyPolyester/Kickstarter