When a high school sex-ed instructor told students, "If your mom gives you birth control, she probably hates you," student body vice president Katelyn Campbell didn't hesitate to inform the ACLU. And when Campbell's principal threatened to report her "bad behavior" to her chosen college, Wellesley, the teen filed an injunction against him. 
Campbell and her principal, George Aulenbacher, are now the unwitting subject of an online controversy in her town of Charleston, West Virginia. They've made headlines on the Web, and news even reached Wellesley, which let her know (via tweet) that they're more than excited to have her.
George Washington High School's guest was conservative speaker Pam Stenzel, an abstinence educator known for bombastic fear-mongering in her sessions. She explained to Katelyn's peers (video segment below) that condoms are not safe and that every sexual contact leads to a sexually transmitted infection.
Campbell, a senior, refused to attend the assembly, but listened to a recording of the event. She said that Stenzel's talk amounted to "slut-shaming" and it made many students uncomfortable.
School principal George Aulenbacher disagreed. "The only way to guarantee safety is abstinence. Sometimes, that can be a touchy topic, but I was not offended by [Stenzel]," he told the West Virginia Gazette.
According to Campbell, Aulenbacher was not content to leave it as a difference of opinion after she spoke to the press about her concerns. She claimed he told her, "How would you feel if I called your college and told them what bad character you have and what a backstabber you are?" Campbell alleges he threatened her and her future to "put forth his own personal agenda and make teachers and students feel they can't speak up because of fear of retaliation."
She hopes to protect her freedom of speech through the injunction, and she wishes to continue advocating for sexual health resources for youths in West Virginia. She claimed sex education and birth control information were "suppressed" at her school and that the nurse is barred from telling students how to get free birth control in Charleston.
Campbell wrote on Facebook that she condones abstinence but does not want girls to be shamed for having sex. "I think it's the only way to be 100% safe," she said, "but not 100% of GW's students will abstain. For that reason, our school should give them the tools to be safe."
Campbell is not alone in her fight. Some of her classmates plan to bring up the issue at a local Board of Education meeting Thursday evening. 
And on Facebook, the battle rages on. Some echoed Campbell's call for his resignation; others demanded Aulenbacher be fired.
"Hosting a religious group in a public school is a violation of the students' first amendment protections," wrote Gregory Lane. "Your actions are illegal, and your disregard for the highest law of the land is despicable."
Other Facebook users—but far fewer—leapt to the principal's defense.
"Keep standing up for what is right, George!" offered Julie DeTemple.
"We need more principals like him!" Tammy Trump wrote. "You are in our prayers."
Whatever happens between Campbell and her principal, she is assured of her place at Wellesley. The college, a liberal arts institution known for shaping women leaders, tweeted this message of support: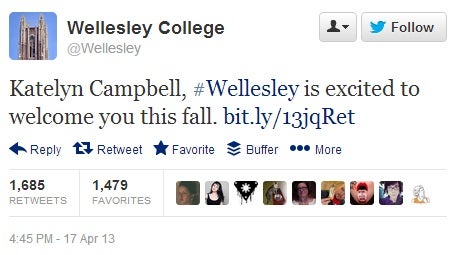 Wellesley students and alumni also applauded Campbell for standing up for her beliefs. More than 800 people signed a Change.org petition in support of her actions.
Meanwhile, the saga took a fresh twist Wednesday: Police investigated a shooting threat against Aulenbacher on a Facebook page for his supporters.
Photo via Katelyn Campbell/Facebook