Justin Bieber is a pop star, a social media giant, and a criminal. But is he also a shapeshifter?
A strange new YouTube video has hundreds of thousands of people wondering.
The clip is from an O'Reilly Factor segment on Bieber following his arrest for street racing in Miami while under the influence of drugs and alcohol. Bieber is seen in an orange jumpsuit; his stare is expressionless. Then, all of a sudden, something happens to his eyes. 
Here's the blink in question, GIF'd: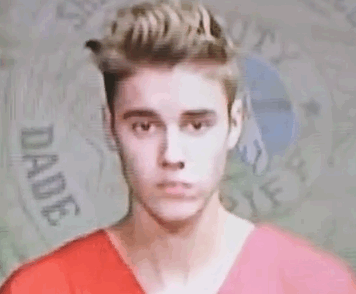 Here's what people are saying: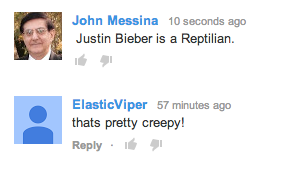 4chan's paranormal board /x/ has called Bieber a "shape-shifting lizard." I think he looks more like the alien from the beginning of Men in Black, the one who blinks a separate set of eyes after being chased by Will Smith. 

Like most things on /x/, Bieber's crazy eyes had a logical explanation.
"Most mundane explanation is a video compression artifact," one /x/ user wrote. "If Bieber is a lizard I'd [have] joined the Christians [a] long time ago."
An artifact is a sort of distortion that occurs during the compression of a video in order to make it small enough in file size to fit on a disc.
"A digital video file has the same fuzzy edges and distortion of images as a still image file may have," Techtarget explains. "The breakup of the video into large digital pixels and jerkiness in the video stream are examples of compression artifacts."
Since Bieber was arrested last week, he's not only been the focus of every mainstream media organization, but also 4chan's random imageboard /b/. 
The prank was called #cuffs4bieber, which encouraged the community to share the following random images of teenagers getting arrested on Twitter in order to fool real Bieber fans into getting busted by the cops out of solidarity.
A White House petition to have Bieber deported over his antics has collected 226,000 digital signatures. 
Photo by iloveJB123/Flickr