Justin Bieber just received a DUI in Miami. Police in the area confirmed that this morning. 
Here's Justin Bieber's mugshot: https://t.co/b1ggqWNv9I pic.twitter.com/vwDbyARCk8

— Us Weekly (@usweekly) January 23, 2014
The 19-year-old megastar had reportedly been drinking and drag racing his yellow Lamborghini somewhere around Pine Tree Drive and 26th Street at 4am Thursday morning when he "was pulled over and failed a sobriety test," according to Miami Beach Police sergeant Bobby Hernandez. The Miami Herald reports Bieber had no license and resisted arrest without violence.
Tests also revealed that Bieber was under the influence of drugs at the time. He's set to be booked at Miami-Dade County's main jail this morning, where a bail will be set and he'll surely pony up the cash.
News of the arrest spoiled breakfasts and ignited tantrums throughout households around the world this morning, as teens learned about the arrest and went downright haywire on Twitter. Bieber began trending immediately, and quickly drew consideration and hopeful prayers from such noted dignitaries as Ricky Gervais and onetime rapper Vanilla Ice.
someone refer bieber to uber, you'll get $20

— Rembert Browne (@rembert) January 23, 2014
I HAVE A REFORM FOR BIEBER. COME WORK ON THE VANILLA ICE PROJECT COFFEE OVER LIQUOR AND SOME GOOD HARDWORK – LOL @TMZ @DIYNetwork @hgtv

— Vanilla Ice (@vanillaice) January 23, 2014
Bathing under the influence. I'm your Bieber now. pic.twitter.com/HalaojCT2o

— Ricky Gervais (@rickygervais) January 23, 2014
The Mountain Goats' John Darnielle was the voice of reason.
driving drunk is super-wrong but can we quit hating on the Biebs who is pretty clearly in a bad place personally

— The Mountain Goats (@mountain_goats) January 23, 2014
somebody tell Justin I have a very relaxing collection of new age music if he needs to be alone with his thoughts after he makes bail

— The Mountain Goats (@mountain_goats) January 23, 2014
Elsewhere, Bieber's hordes of fanatics are straight up flipping out. 
OMG NO! JUSTIN WAS ARRESTED? OMG WHEN IS HE GETTING OUT! THIS IS NOT OKAY! #PrayForJustin #PrayForJustinBieber

Really hope Justin is getting better! #PrayForJustinBieber #PrayForJustinBieber

— PrayForJustinBieber (@Completedbiebs) January 23, 2014
I'm not mad at justin. He just need to realize that he make wrong decision. #justinbieberishuman

— (@queenkidrxuhl) January 23, 2014
#justinbieberishuman #justinisoursoldier he needs to be left alone he's growing up!! Get the fuck over it!!! @justinbieber just ignore them

— Bieber Army (@SJbaby5497) January 23, 2014
MY BABY IS GOING TO JAIL #PrayForJustinBieber #FreeBieber

— Agatha (@_ellieminaj) January 23, 2014
Omfg i dont know what I would do with out him in my life come on #FreeJustinBieber #FreeJustinBieber pic.twitter.com/k24WlDW5DH

— thank you Justin (@amandawerling) January 23, 2014
My heart literally broke when I heard about all this. I'm crying, for real, I'm not just saying that. #PrayForJustinBieber #ILoveYouJustin

— Bianca (@BiancaLeigh100) January 23, 2014
If I were in Miami I would get arrested so I could see Justin and tell him that Beliebers are here for him. #PrayForJustinBieber #FreeJustin

— Matt (@Spearitual) January 23, 2014
waking up from sleeping and realizing our biggest nightmare was a reality. #PrayForJustinBieber #justinisoursoldier #justinbieberishuman 💜

— ceee. ☯ (@ciannnaaa_) January 23, 2014
A full slew of teen lamentations can be found via the #prayforjustinbieber and similarly endearing #justinisoursoldier hashtags. Right now it's unclear how the nation's schools intend to go on with their lesson plans.
The good news—if there is any good news to come out of an arrest—is that we already have a Twitter parody account to gawk at. @BiebersDUI came to be shortly after 8am Eastern, and though it's not particularly funny and hasn't yet accumulated any followers, it's nice to know that every national crisis will eventually receive its corresponding Twitter account. 
That's all that's known right now, except that this tweet from Jan. 21 currently rings especially true.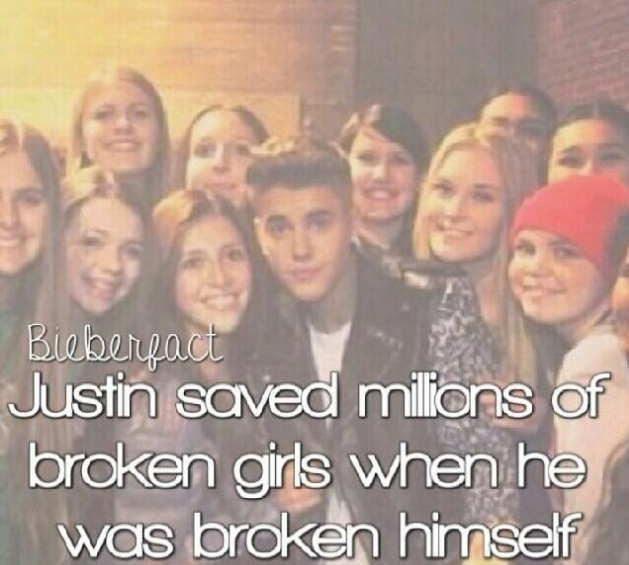 Photo via ShelbyCasanova/Flickr