A quick piece of advice on dating an athlete, from the eccentric and entertaining hoopster J.R. Smith: If you're not going to be direct—and let him know quite simply whether or not you're "trying to get the pipe"—you may want to follow this handy guide. 
The New York Knick shooting guard turned to his Instagram account Monday to post a list of helpful hints to make the ladies in the world better companions to their athlete boyfriends. He offered such luminous tips as "don't nag at them after practice or a game," "cater to them after practice," and "please them when needed." 
The whole lineup's a little one-sided, though I guess that's not surprising. J.R. Smith is just chauvinistic enough to assume that a woman's attendance at a basketball game means that she's "trying to get the pipe."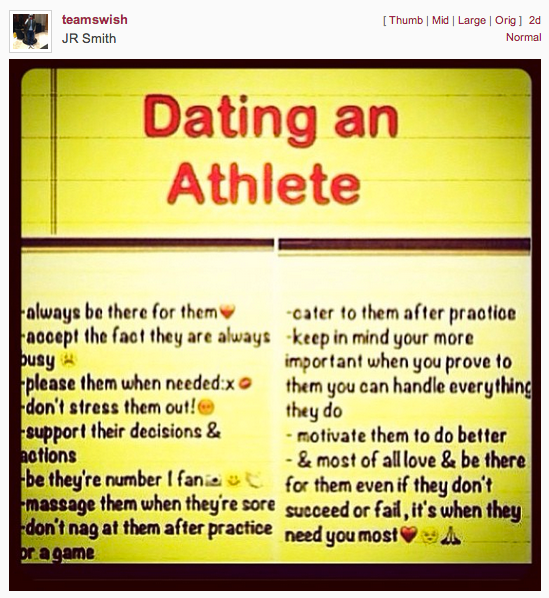 Agree with the man or not, Smith's a whirlwind of fun on the vast abyss of social media. Last March, the guard received a $25,000 fine for posting a picture of a woman's bare butt onto Twitter. In January, he got into a scuffle with Kris Humphries over the former Kardashian clansman's soon-to-be-ex-wife's recent exploits with rapper Kanye West. 
Photo via J.R. Smith/Facebook