When the events you're livetweeting took place 2,000 years ago, there's only so much you can do.
One priest in Devon, England, is tweeting the story of Easter in "real time" through sunrise on Easter Sunday. Canon Andrew Godsall, who came up with the idea during a social media course, is sending tweets from Jesus Christ's perspective throughout the week at @CofEDevon.
The Passion story is a pretty juicy one, in case you hadn't heard. According to the Bible, Christ strutted into Jerusalem on a donkey on Palm Sunday while adoring fans thronged the streets. Public opinion of him soon soured. He was put to death a few days later before coming back to life on Easter Sunday (according to scripture).
"We need to appeal to people more used to tweet culture than listening to sermons," Godsall told the BBC. "We wanted to help people really connect with the events of the last week in Jesus' life."
Godsall suggested some church members might be offended with the embracing of contemporary culture, but he said he was "unapologetic."
"Jesus always used contemporary culture, for example the parables, because it appealed to people's imaginations," Godsall affirmed.
Using Twitter and the Internet to spread the gospel is an idea Pope Benedict agreed with before he stepped down.
However, Godsall's tweets are actually kinda dull so far. There's little opportunity for them to get better, since the Diocese is sharing just one tweet a day, at 11 GMT.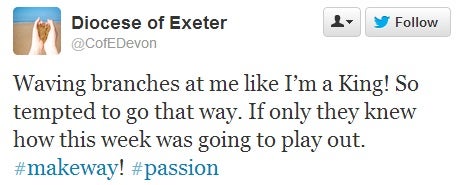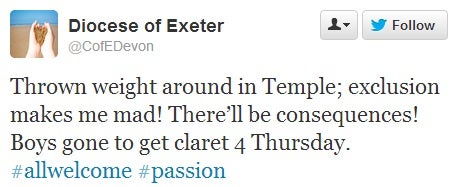 The Easter story was told much better on Twitter two years ago, when @EasterLIVE had a more collaborative take on telling the story. It retweeted comments from followers as they took on the roles of bystanders during the crucifixion and resurrection. 
Godsall is giving a fresh perspective on the Easter story, although a few aspects remain questionable. For one, how would the disciples react if Jesus livetweeted the Last Supper?
Photo by tonystl/Flickr