Jack Daniel's, you taste so good. Why must you tweet so bad? The whiskey's social media presence is so boring and obtuse, it's almost criminal.
It's probably good for Jack's sake that the tweets aren't coming from @JackDaniels, an account actually owned by a another guy who largely tweets in French—the horribleness would likely have far more attention if Jack Daniel's had a handle on its handle. 
Instead, the tweets crop up on @JackHoney, designed to promote the new, nectar-tinged line of bourbon.
Jack Daniel's Honey blasts out a tweet a day to its roughly 6,000 followers. The account is verified, but you might need to confirm your age before following the account (although after seeing these tweets, we can't imagine why you'd want to).
Here's a look at some of the dullest tweets this side of Tennessee.
1) It's so lacking in imagination it can't even finish its own tweets.

2) And again with the Crap Libs.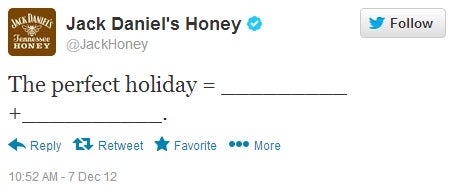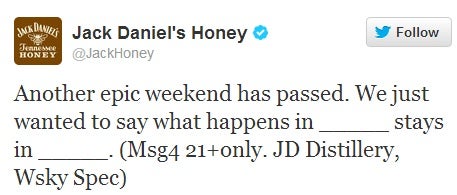 3) Surely the real question is "how the hell do we monetize this thing? Terrible puns?"
4) Agree on what? The existence of two nouns?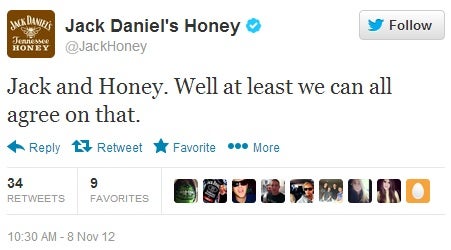 5) Solid life advice, but why would it make me want to buy bourbon? (At least the reply is kinda funny.)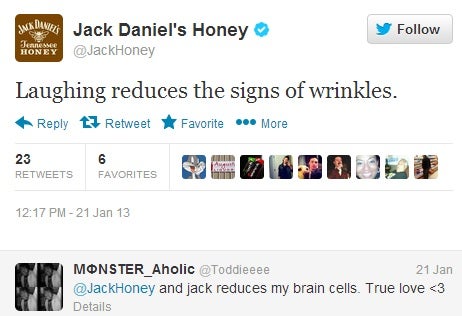 6) This seems like a really wise idea.

7) Poor grammar aside, maybe this would have gotten more attention if it included "retweet-er."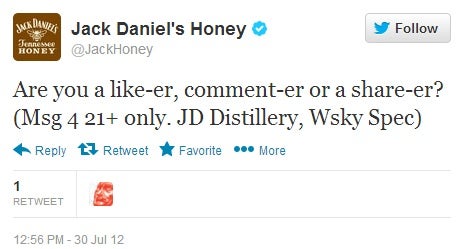 8) A timely election reminder from the stalwart of civic duty that is @JackHoney: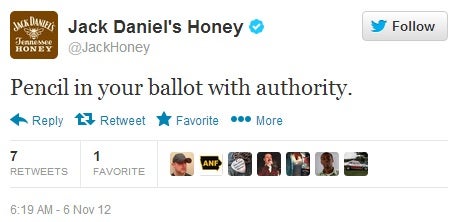 9) If you don't need to drive, you can drink more. There's an incentive for Jack to get these cars developed.

10) A noble message, but the bee puns just make Jack seem like it's flying … er … trying too hard.
11) Why do you need to know this, @JackHoney?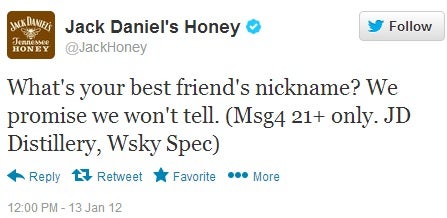 12) Larry Grayson you are not, Jack.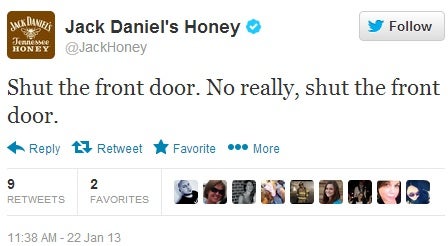 13) LOL?


14) The exclamation point denotes excitement. This is not exciting.
15) Putting words together does not a sentence make.

Ol' Jack would be ashamed.
Photo by allaboutgeorge/Flickr