An Israeli soldier is probably thinking twice about the pictures he's posting to Instagram after an alleged photo of a Palestinian child in the crosshairs of a rifle caused the Israel Defense Force to launch an investigation.
Electronic Intifada, an English-language Palestinian-focused blog, discovered the posting Saturday on the Instagram account of Mor Ostrovski, a 20-year-old soldier in the IDF's sniper unit.
The blog hypothesizes that the picture's urban setting points to it being in a Palestinian territory and called the picture "tasteless and dehumanizing." However, the picture's authenticity could not be confirmed, and the site cautioned there is no evidence the child was shot.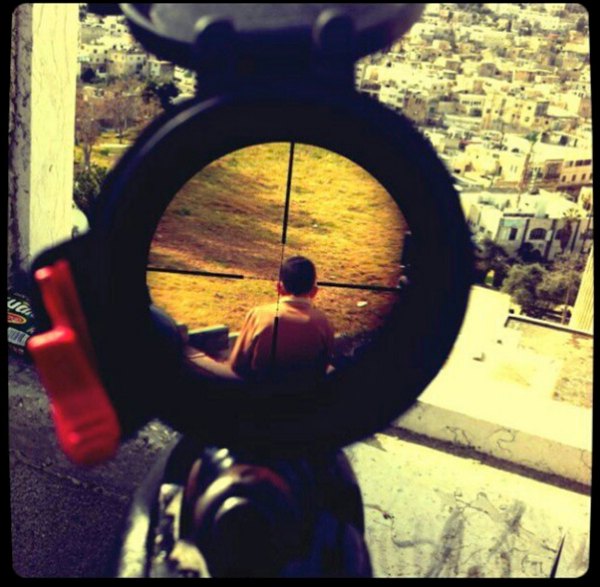 Ostrovski's profile on Instagram, along with the picture, has been deleted. Other pictures on his account showed him posing with other military weapons.
The Israeli military said Sunday it's launching an investigation as the posting "doesn't accord with the IDF's spirits and values."
"The issue was brought to the attention of the soldier's commanding officers, will be examined and properly handled," said an IDF spokesman to YNet news.
Reaction to the picture on social media has been swift. Breaking the Silence, an organization created by ex-IDF soldiers to raise awareness about the ongoing Palestinian-Israeli conflict, has seen its Facebook profile filled with messages.
The group posted a similar picture taken in 2003 that shows another Palestinian boy in the crosshairs of a gun, taken by an Israeli soldier to keep as a "souvenir."
"Both pictures are testaments to the abuse of power rooted in the military control of another people," declared the page's administrator, adding that despite how distribution via technology has changed in ten years "the exaggerated sense of power and the blatant disregard for human life and dignity have remained."
Photo via Electronic Intifada/Instagram